OmniAccess™ Wireless LAN Switch
A scalable design, mobile VOIP, integrated network management and security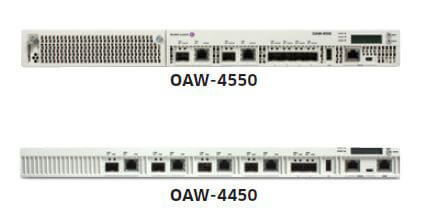 The Alcatel-Lucent OmniAccess™ WLAN Switch/controller product family provides the industry's strongest integrated security feature set with a comprehensive line of WLAN switch/controllers, each designed for a specific environment such as the enterprise campus, building or branch office environments.
The OmniAccess WLAN Switch/controller family includes:
OmniAccess 4005
OmniAccess 4010
OmniAccess 4030
OmniAccess 4504XM
OmniAccess 4604
OmniAccess 4704
OmniAccess 4450, OmniAccess 4550, OmniAccess 4650, OmniAccess 4750
The OmniAccess WLAN Switch/controller family is managed by the OmniVista 3600 Air Manager.
A variety of switches enabling the deployment of appropriate sized solutions to fit user needs
Supports a user-centric network experience
Offers follow-me connectivity, identity-based access, and application continuity services
Scalable design
Mobile voice over IP
Integrated network management in a secure network environment
All OmniAccess Wireless LAN Switches benefit from:
Policy-based network access controland business policies are translated into network controls, and violators are detected and then blocked before anything ever happens
Universal authentication.A single authentication security system provides the means of knowing what/who are using the network
Adaptive radio management removes the headaches of old fashioned manual control of wireless devices allowing the administrator to specify performance standards
Rogue and interfering access point detectionautomatically disables the devices by preventing users from associating with them and notifies administrator of their location for removal
Wireless intrusion protectionprovides detection and visibility of intruders to administrators to prevent malicious wireless attacks
Data encryptionprevents intruders from eavesdropping on sensitive data through use of modern protocols
Network securityprocesses traffic based on user identity and other parameters instead of just source/destination addresses
Availabilitysupports business critical applications that can't tolerate downtime by providing VRRP-based hot standby, modular software design with protected memory, and automatic AP failover
Seamless user mobility:users are able to move freely without the need to restart sessions or re-authenticate each time they move in the campus
Centralized management:intuitive web-based interface provides logical organization of features, while the industry-standard command line interface allows experienced network managers to be up and running quickly. They can view both wired and wireless network elements and topologies from a single screen
Seamless wired-wireless integration:no reconfiguration of existing network components are necessary to integrated the OmniAccess WLAN platform into the network
Endpoint integrityprovides facilities for client remediation, allowing out-of-spec client devices to repair themselves
Standard with every wireless LAN, Alcatel-Lucent OmniAccess base software provides unprecedented control over the entire wireless environment and enables advanced adaptive WLAN, identity-based security and application continuity services.
The base feature set of Alcatel-Lucent OmniAccess wireless LAN base software includes sophisticated authentication and encryption, protection against rogue access points (APs), seamless mobility with fast roaming, RF management and analysis tools, centralized configuration, location tracking and more.
OmniAccess wireless LAN base software can be complemented with the following optional modules:
OmniAccess Wireless RFProtect module. An optional software module installed on Alcatel-Lucent WLAN Switch/controllers. RFProtect safeguards the network infrastructure against wireless security threats as well as provides a critical layer of visibility into sources of radio frequency (RF) interference and their effect on wireless LAN (WLAN) performance.
OmniAccess Wireless Policy Enforcement Firewall Next Generation(PEFNG). This module provides identity-based security, quality of service (QoS) control and traffic management capabilities to a user-centric network.
OmniAccess Virtual Intranet Access Agent. Alcatel-Lucent offers numerous access points (APs) that work with OmniAccess WLAN switches, each offering a different set of features allowing customers to select what they need for their particular application. The APs are small, lightweight and can be securely deployed in a variety of locations including outdoors for some models.