OmniSwitch™ 6860E
Secure, versatile LAN switches to meet on-campus business needs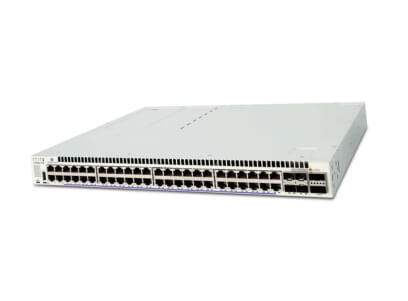 Alcatel-Lucent OmniSwitch® 6860 Stackable LAN Switches (SLS) are compact, high-density Gigabit Ethernet (GigE) and 10 GigE platforms designed for the most demanding converged networks.
In addition to high performance and availability, the OmniSwitch(OS) 6860(E) offers enhanced quality of service (QoS), user authentication, deep packet inspection (DPI), and comprehensive security features to secure the network edge while accommodating user and device mobility with a high degree of integration between the wired and wireless LAN.
The enhanced models of the OmniSwitch 6860 family also supports emerging services such as application fingerprinting for network analytics and up to 60 watts of Power over Ethernet (PoE) per port, making it ready to meet the evolving business needs of enterprise networks.
These versatile LAN switches can be positioned:
At the edge of mid- to large-sized converged enterprise networks
At the aggregation layer
In a small enterprise network core
In the data center for GigE server connectivity and SDN applications
The OmniSwitch 6860 family consists of these models:
OS6860E-P24
OS6860E-P48
OS6860E-24
OS6860E-48
OS6860E-U28
OS6860-P24
OS6860-P48
OS6860-24
OS6860-48
Versatile features and models offering high density Gigabit and 10 Gigabit interfaces
Up to eight switches can be connected using Virtual Chassis technology to create a single chassis-like entity with up to 32 10Gigabit uplinks and 384 Gigabit ports
IEEE 802.3af and 802.3at compliant PoE of 30W per port on all ports
The enhanced models of OS6860 family support up to 60W of PoE per port on four ports
Internal, hot-swappable power supplies and front-to-back cooling
Integral operating system advanced functions: Quality of service (QoS), access control lists (ACLs), Layer-2/Layer-3 switching, virtual LAN (VLAN) stacking and IPv6
Application monitoring and enforcement  is available on the enhanced models and allows OS6860 to discover of up to 2000 business or personal applications flowing through the network
Advanced Unified Access features for converged campus network solutions in application fluent networks:

Integrated policy with dynamic user network profiles
Extensive security features for network access control (NAC), policy enforcement and attack containment
SIP fluency to provision and monitor QoS treatment of SIP flows
Airgroup™ Network Services for Bonjour and DLNA speaking devices

Enables deployment of comprehensive and secure BYOD services in enterprise networks*:

Advanced guest management capabilities
Device on-boarding and automated 802.1x provisioning
Device posture/health check and fingerprinting
Application management

OmniSwitch 6860 is SDN ready: Supporting programmable AOS RESTful APIs, OpenFlow and OpenStack allows the creation of specialized services
Supports shortest path bridging (SPB-M) for bridging and routed services, Multiple VLAN Registration Protocol (MVRP) and dynamic Virtual Network Profiles (VNP) and Virtual Routing and Forwarding (VRF)
*Requires Aruba ClearPass
With a variety of interfaces and models, the OmniSwitch 6860 family meets any customer configuration need and offers excellent investment protection and flexibility
Cost-effective, highly scalable system that supports a wide range of network scenarios – from campus access to aggregation and to data center top-of-rack deployments. It simplifies procurement and stocking
Reduced operations expense with lower power consumption than similar competitors systems
High availability and simplified management due to power supply redundancy, virtual chassis technology and in service software upgrade (ISSU) when deployed in virtual chassis mode
With advanced PoE capabilities and high density of PoE ports, the OS6860 is ideal for converged campus deployments. It offers deployment flexibility, simplifying the wiring and reducing the time to deploy a variety of edge devices
Most comprehensive support of Unified Access technology providing an enhanced and consistent user experience on wired and wireless, and simplified IT operation
The OS6860's application monitoring and enforcement capability provides network administrators  a comprehensive view of the applications running in the network, enabling optimization and control of network performance
Using the embedded DPI technology allows OS6860 application monitoring to discover up to 2000 business or personal applications flowing through the network and apply QoS policy enforcement and prioritization for the discovered applications. This type of visibility can be used to optimize the performance of the network as well as apply adequate control. The OS6860 shows outstanding performance when supporting real-time voice, data, and video applications
OS6860E offers flexible deployment options and enables the network for BYOD deployments and zero-touch guest management
OS6860E supports SDN for fast deployment of new network services
Supports network virtualization in the enterprise delivering agile, value-added services while simplifying the transformation of the campus networks to meet user needs. It allows optimal link usage, fast convergence, and ease of configuration in large L2 topologies
Enterprise-wide cost reduction through hardware consolidation to achieve network segmentation and security without additional hardware installation