OmniAccess Stellar AP1351
A premium, high-end WLAN indoor access point with 802.11ax technology.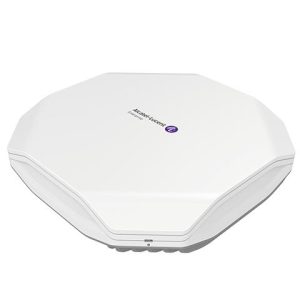 Next generation mobility and IoT-enabled networks require very dense, high-capacity access points.
The 802.11ax premium high-end OmniAccess Stellar AP1351 is designed to provide the superior mobile experiences your users expect and need.  With its 802.11ax technology, the AP1351 accommodates the demands created by IoT-enabled networks and next generation mobile devices.
Enables a visionary distributed Wi-Fi architecture with centralized management and policy control.
Provides enhanced security with WPA3.
Can be deployed in three different modes, all through a single version of software, simplifying IT operations.
Supports fine-tuned, Quality of Service (QoS) parameters to differentiate and provide appropriate QoS for each application.
Radio Dynamic Adjustment (RDA) technology automatically assigns channels and power settings.
OmniAccess Stellar WLAN AP1351