Avaya Aura®
Our flagship solution provides comprehensive unified communications and customer experience solutions for your enterprise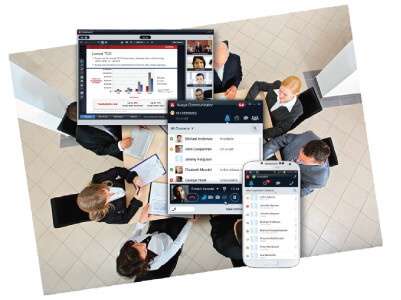 Avaya Aura® is a flagship communications solution that uses an IP and SIP-based architecture to unify media, modes, networks, devices, applications, and real-time, actionable presence across a common infrastructure. This architecture provides on-demand access to advanced collaboration services and applications that improve employee efficiency. Avaya Aura® is available under Core or Power Suite Licenses. Each suite provides a customized set of capabilities designed to meet the needs of different kinds of users. Customers might mix Core and Power licenses on a single system based on their needs.
Support for up to 28 instances of Session Manager and 300,000 users and 1 million devices
Support for up to 18,000 simultaneously registered H.323 endpoints out of 41,000 endpoints per single Communication Manager server and SIP endpoints in an enterprise
Advanced Session Management Capabilities
Converged voice and video call admission control
SIP features, including E911, which reports the desk location of the caller
Avaya Communication Server 1000 SIP networking and feature transparency
Session Manager SIP routing adaptations
A central management application, System Manager, for all Avaya Aura® applications and Avaya Communication Server 1000, with single authentication
Preserving your investment, the Avaya Aura Platform rationalizes and streamlines your enterprise communications system. Based on your budget, business strategy and user requirements, it preserves, adapts, consolidates, and extends your system.
Voice, video and other communications services can be connected directly to business workflows, filtering and delivering the right information to the right people on the right device at the right time.
Users get seamless interactivity across media, applications and devices—including Avaya Equinox.
Your organization benefits from an infrastructure that's designed for today's mobile and dispersed workforce, supporting the smarter, faster, anytime / anywhere decisions that are critical to business performance.
Landmark Bank
Differentiating itself versus larger competitors is a big part of Missouri-based Landmark Bank's go-to-market strategy.
The bank's differentiation approach is summed up in its philosophy regarding the customer experience it aims to deliver: "big-bank' services with a 'small-bank' feel." Supporting Landmark Bank's strategy: Avaya solutions for contact center, networking, Unified Communications (UC) and videoconferencing.
For more details: