Avaya Contact Recording
Voice-recording solution capable of providing bulk recording, on-demand recording, and event-driven recording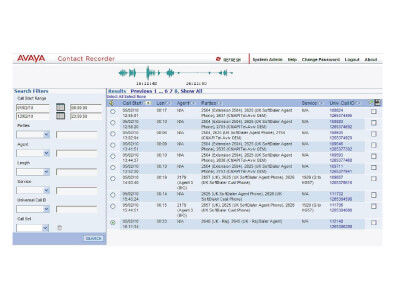 Avaya Contact Recording is a voice-recording solution capable of providing bulk recording (100% of calls), on-demand recording, and event-driven recording.
Avaya Contact Recording is a software-based call recording product designed to meet the recording needs of businesses and contact centers that have either traditional endpoints, IP endpoints or a mixture of both. Standard and advanced recording modes include Bulk (100% recording of all calls), On-Demand (user initiated recording from any station), Meeting (user initiated recording of meetings), and Event-driven recording (external trigger). These recording modes give businesses the tools they need to track and review customer voice interactions.
Avaya Contact Recording provides flexible and sophisticated voice recording capabilities on top of the latest versions of Avaya Communication Manager, AACC and CS1000 platforms. Avaya Contact Recording can scale from 1 Channel to 1000 channels on a single server dependent configuration. A customer may have multiple Avaya Contact Recordings on a single ACD.
This server integrates to your Avaya communication infrastructure to record calls that are subsequently stored on its hard disk and can be archived to DVD+RW or more sophisticated management and network storage using the native Archive capability for long-term archival. Search and replay is accomplished through a browser-based user interface that can allow any user in the enterprise to access any call that has been recorded. Telephone Replay is also available via the optional Telephone Replay software.
Free Seating: Recordings are automatically "tagged" with the name and number of the agent logged on at the recorded station.
Multiple recording modes: Conference, Selective retain of recordings, On-demand, Meeting Recording, Event Driven
Recording of any call irrespective of the station device used: Softphone, analog, digital, IP phones
Support for encryption, different codecs: Encrypted calls to IP handsets can be recorded
Flexible recording: Records all calls on configured extensions OR selectively based on user commands from the phone
Recording Rules: Ability to configure rules to control recording for Conferenced Recording.
Support for station mobility: Recording follows the station number, not the cabling.
Use of Avaya Communication Manager API (DMCC) and Avaya Media Server (AMS) SIP Conferencing capability: DMCC and AMS allow calls to be recorded without the need for "special" telephony recording hardware.
Software-only design: Ability to deploy the recorder on an industry standard server without the need for ANY proprietary hardware.
Archive: DVD+RW, Blu-ray, SAN, NAS and EMC Centera.
Online storage: Online disk storage (Volume dependent on server hard disk configuration)
Compression of online calls: Calls can be stored as 16 kbps G.726 or 8kbps G.729a
Database support: On-board PostgreSQL
Standby Recorder: A fault tolerant configuration allowing a "standby" recorder to shadow a "primary" recorder, with automated switch-over on recorder failure
Higher Capacity: Up to 990 concurrent (dual/quad processor) recording channels per server (see Server Sizing Matrix)
Avaya branded and sold exclusively by Avaya and Avaya partners: Recording solution ordered through Avaya
Record, search and replay solution on a single server: Web based replay from the on-board search and replay application
Sophisticated Search Features: Display results can be display in a single page or partitioned into multiple pages. Calls can be managed using call sets.
Call retrieval and replay to the PC soundcard: Via standard search and replay GUI
Call Export: Ability to export single or multiple recordings from the Standard Viewer app to a format readily accessible by a Windows Media player.
Central Replay Server: Deployment of separate recorder server licensed as a Central Replay Server
Energy envelope support: Ability to visually see the profile of the call being replayed in the search and replay GUI
Audit: The Audit feature monitors interactions to identify who did what and when
Multi-site: Can enable multiple sites with Avaya Contact Recording, and a central database server providing a unified view of the enterprise
Enterprise View: A single view of multiple systems
Export: With the proper security, you can export contacts to non-system users. The system exports the audio as a .WAV file that can then be distributed as required, for example, via e-mail.
Audit: The Audit feature monitors interactions to identify who searched for which range of calls and which of those calls were replayed, and when.
Customer Filters and Layout: Ability to create custom filters and layouts
Advanced Recording Rules: For Complex recording control not satisfied by the standard product Unify can be used to provide the ultimate flexibility.
Call Tagging: Ability to Tag calls if the source provided is not intelligent.
Contact centers operate in environments where agents are frequently shifting from one group to another or one workstation to another. As a result, the task of trying to keep track of them and monitor their interactions with customers on a regular basis is a difficult one at best.
Many more uses for recording in the enterprise can be found, allowing the company to capture, store and share access to calls, which contain enormous amounts of valuable insight into the company's customers, processes and products.
Ability to record any call made on the switch irrespective of the type of terminal device
Encryption can be used where needed in the organization without needing to be concerned about whether or not the call will ever need to be recorded
Recording can easily be made to fit the company's various business needs for recording rather than being seen as technology that can only be deployed in the call center.
This allows the system to provide targeted recording based on data about the calls. This provides a more focused recording solution.
No cabling (other than LAN connection) needed
Ease of configuration and upgrade
TCO lower with improved MAC costs
As industry standard servers become more powerful customers can expect to get better performance from the recorders.
DVD archiving device in the recorder for low volume archiving. Option to archive to SAN/NAS for high volume deployments.
Ability to calculate on-line storage requirements and use appropriate sized hard disk
Calls are compressed at a ratio of 4:1 G.726 or G.729a 8:1 for efficient storage
PostgreSQL is the database which is most commonly used for websites and is a robust, industry standard, database
Provides customer with a fault tolerant system that gives them piece of mind that if a server fails they are still recording.
Fewer servers to manage, more cost effective solution
One less contract and simplified purchasing process. Single owner for solution's installation and support.
Thin client access to replay calls allows anyone within the organization with the rights to replay to be able to easily access calls
Search Parameters remembered between logins
Replay to the PC soundcard can avoid the telephony costs between sites. Note- requires each replay PC to be equipped with a soundcard.
Portability of recordings – can be emailed or saved to disk.
If a customer has multiple recorders on a single site then they can use an additional Server to act as a Replay Server to provide a single view for all contact recordings.
Allows the user to visualize the conversation so that they can decide to go to certain sections of it, dramatically increasing the efficiency of listening to calls
Allows system administrators to know:
– Configuration changes made via the administration web pages that directly affect recording
– Successful user logins
– Failed user logins
– Password changes
– User Searches
– Replay Requests
Ease of administration and retrieval; allows growth to multiple systems
Search and replay for calls regardless of which site took the call.
Once exported, the audio files are independent of Avaya Contact Recording and can be saved to a CD or e-mailed to another recipient who can replay the audio on any workstation with a web browser and a media player, for example, Windows Media Player, RealPlayer®, and so on.
The Audit feature allows users with the appropriate security access to view the history of interactions with Contact Viewer.
Allows users to search and view recordings with custom tags
The customer can define exactly what calls or portions of calls they need to record and tag with information relative to the call.
If the source is non intelligent like a straight event feed then Unify will be needed to interpret the events and provide recording control.
Unlike traditional compliance recorders that use passive taps on either the trunks or extensions, Avaya Contact Recording recorder uses the DMCC interface to connect a port to the Avaya switch to record calls. This more flexible approach to recording offers the following benefits:
The recorder can record potentially any call on the switch. Traditional trunk and/or extension recording would put restrictions on how calls were recorded and were inflexible especially after installation.
There is no cabling to maintain to take account of the shifts moves and changes that take place in enterprises on a regular basis.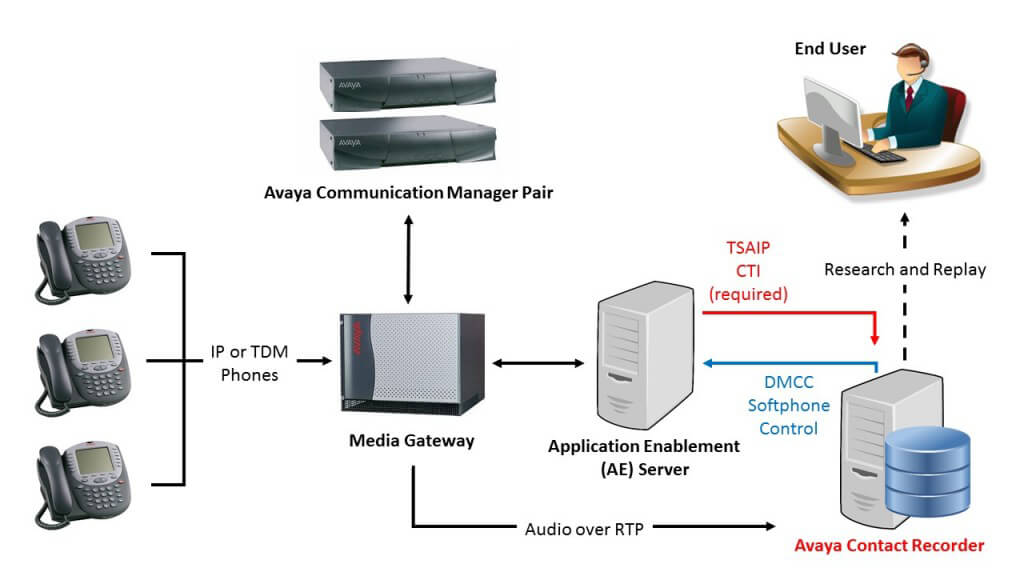 Avaya Contact Recording server contains several distinct components, as follows:
Avaya's Device and Media Call Control API (DMCC) platform and the recording application that controls the softphones.
A directory into which call contents and derived files are written as industry standard.wav and .xml files.
FIFO disk space management in which the oldest recordings are automatically deleted, as required, to allow space for new recordings.
A PostgreSQL database into which details of all calls are stored.
A browser-based call search and replay application.
A browser-based system configuration and status monitoring application.
Archive system where recordings can be automatically written to a DVD+RW drive, NAS, SAN or EMC Centera.
Max. SBC Sessions

250

Max. IP-to-IP Transcoding Sessions

45 sessions

Max. Registered Users

800

Max. Voice Interfaces

60 - supporting a mix of E1/T1/J1 trunks, BRI, and analog interfaces:
- Up to 2 E1/T1/J1 trunks
- Up to 8 BRI interfaces
- Up to 12 analog interfaces (FXS/FXO)

Server Platform (Optional)

Embedded Intel-based Server platform for third-party services

SIP Stand-Alone Survivability (SAS)

Up to 800 users

Cloud Resiliency Package (CRP)

Up to 800 users

LAN Interfaces

IBS, Echo-Cancellation (EC), Caller-ID (CID), Silence-Compression (SC), Automatic Gain Control (AGC) and Answer Detector (AD), RTCP XR, T.38, G.711, G.726, G.729, G.723.1, G.722, AMR, AMR-WB, SILK, SILK-WB, V.150.1

Physical dimensions

(H) 1U, (W) 345 mm, (D) 320 mm