Executive Elite™ Wireless Microphone System
Boardroom-ready wireless microphones for best audio quality and highest densities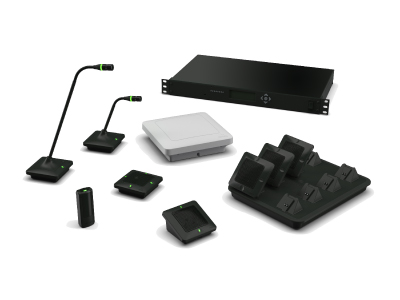 Yamaha Executive Elite™ wireless microphones merge best-in-class audio with eye-catching design, setting the gold standard for excellence in wireless conference room audio. These innovative wireless microphones feature advanced technologies and extended capabilities that ensure superior audio pickup and sound quality, improved signal-to-noise ratio, enhanced digital signal communication over wireless links, and a user-friendly interface.
Yamaha latest advances in the use of the available frequencies allow more Executive Elite™ microphones to be deployed and used in the same space. Depending on the application, 44 or more wireless microphones can be deployed per area or room in the Americas and Japan, and 76 or more microphones in Europe, Asia and most other countries. In larger installations, several Yamaha Executive Elite™ base DSP units can communicate wirelessly to coordinate their microphone channels automatically, freeing users from the task of manually assigning and reassigning channels.
Boasting a sophisticated Fortune 500 look and feel, the Executive Elite™ wireless microphone line includes omni-directional, wearable, gooseneck, and directional microphones, as well as XLR and TA4 adapters. The line's stylish microphone charger tray lets you charge up to eight microphones of any type in the same charger simultaneously.
Boardroom: Boardroom-ready design fits into any enterprise environment.
Convenience: Local and remote management options. Cloud based management allows integrators to offer managed services.
Future Proof: Utilizing the DECT protocol protects your investment against radio frequency changes.
Secure: AES-256 encryption with automatic key updates every few minutes gives highest possible security.
The Freedom of Wireless: Cut the cord for the freedom of mobility without sacrificing audio quality.
Crystal-Clear Audio: Be heard with unmatched audio quality.
Density: High number of wireless microphones active at the same time.
Simplicity: Distributed architecture allows separation of audio equipment from radio equipment.
Extendibility: Even large one room or multi room installations can be configured and managed.
No GSM Interference: Revolabs wireless microphones are impervious to GSM noise from other wireless electronic devices.
Rechargeable: Save the expense of daily battery replacement and inconvenience of bulky battery packs.
Flexibility: Can be mixed and matched with a variety of Revolabs Elite™ wireless microphones.