Executive HD™ Wireless Microphone System
Seamless Integration Into High-End Boardrooms and Auditoriums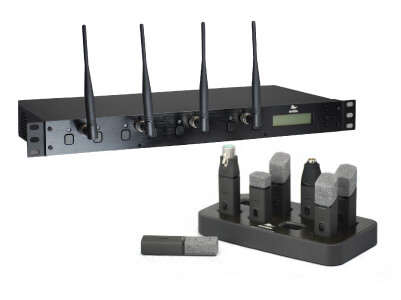 For demanding environments such as high-end boardrooms and large auditoriums, the need for exceptional audio quality for presentations, audio and video conferencing, and more is only the beginning. These settings require audio solutions with unmatched versatility to accommodate the size and unique needs of any application, while integrating seamlessly into the room. The rack-mountable Yamaha Executive HD™ wireless microphone system was developed specifically to deliver this flexibility.
Each Executive HD™ unit provides support for up to eight microphones with exceptional audio quality, and multiple units can be linked together to support up to 32 (Americas) or 40 (international) microphones (per area). The system's wireless design not only provides users with the freedom of natural movement, but eliminates the clutter of cables for a clean look without having to drill into expensive furniture in boardrooms. The security of 128-bit encryption provides the assurance that your meetings remain private.
Perfect for installed audio applications, the Executive HD™ can be integrated with all control systems via RS-232 or Ethernet, making it a seamless, natural extension of any environment. An intuitive front-panel LCD display provides simple control and configuration on-location, while management software is available for the convenience of remotely monitoring and controlling the system through its Ethernet connection.
With the Executive HD™, your investment is protected against government radio frequency changes happening around the world, such as the 2012 digital switchover in the U.K. Operating outside the UHF spectrum, Yamaha wireless microphones utilize the DECT personal communication protocol, which is unlicensed and protected for use by consumers.
Versatility: Expandable to up to 32 (Americas) or 40 (international) microphones (per area) for the largest of applications.
Clean Look: Eliminate the clutter of wires without the need to drill into expensive furniture.
Convenience: Optional management software available for remote monitoring and control.
Future Proof: Utilizing the DECT protocol protects your investment against radio frequency changes.
Secure: 128-bit encryption means no one will be able to listen in on the signal sent between the microphone and base station.
The Freedom of Wireless: Cut the cord for the freedom of mobility without sacrificing audio quality.
Crystal-Clear Audio: Be heard with unmatched audio quality.
No GSM Interference: Revolabs wireless microphones are impervious to GSM noise from other wireless electronic devices.
Rechargeable: Save the expense of daily battery replacement and inconvenience of bulky battery packs.
Flexibility: Can be mixed and matched with a variety of HD™ wireless microphones.
University of Surrey – Case Study
Higher Education Demands Higher Audio Quality
Revolabs' Executive HD™ Wireless Microphone Systems Right at Home in University of Surrey's Renovated Lecture Hall
Cutting the Chord With Wireless Microphone Systems
Revolabs' Executive HD™ Provides Wireless Flexibility and Exceptional Audio Quality for Investec Bank's Multi-Purpose Rooms