FLX™ Wireless Conference Phone
Freedom to Move About the Room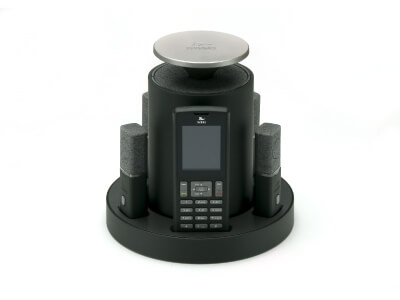 Revolabs FLX™ 2 is a digital VoIP wireless conference phone with a unique modern appeal and offers users freedom of mobility by delivering clear audio in every corner of the room. Designed specifically for conference rooms, executive offices, and SoHo environments, the FLX™ 2 redefines the traditional design of conference phones.
Versatility: Available with two microphones in VoIP phone interfaces.
Bluetooth Enabled: Provides support for mobile devices.
Crystal-Clear Audio: Feel like you are all in the same room.
No GSM Interference: Revolabs wireless microphones are impervious to GSM noise from other wireless electronic devices.
Secure: 128-bit encryption means no one will be able to listen in on the signal sent between the microphone and base station.
The Freedom of Wireless: Microphones and the speaker can be placed throughout the room to optimize sound quality.
Convenience: Make private calls using the handset.
Cost effective: Supports both audio and video conferencing to reduce the amount of equipment in the conference room, minimizing costs and management overhead.
Flexibility: Can be mixed and matched with a variety of FLX wireless microphones. Only two microphones can be used at a time on the FLX system.