IMG 1010
Carrier-ready VoIP gateway that supports both media and signaling in a single chassis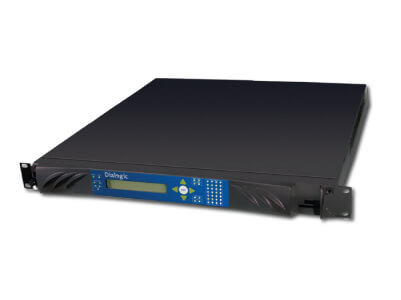 The Dialogic IMG 1010 Integrated Media Gateway is a carrier-grade VoIP gateway that supports both media and signaling in a single chassis. It allows service providers to add new telephony services quickly, and gives them a clear migration path to an all-IP network.
It provides any-to-any voice network connectivity and can deliver SIP services into legacy PRI, CAS, and SS7 networks, as well as IP-to-IP transcoding and multimedia border element functions, such as SIP mediation for network edge applications. Its compact 1U high-density design, integrated SS7 termination across multiple gateways, GUI-based management, and software licensing for in-service capacity expansion make the Dialogic IMG 1010 an excellent option for VoIP.
The Dialogic IMG 1010 also features the Dialogic® Programmable Protocol Language (PPL), which allows rapid implementation of SS7 ISUP variants and other signaling changes.
Simultaneous support for PRI and SS7 signaling and SIP and H.323
SS7 signaling, call routing, call translation, and IP transcoding supported in a single chassis
Supports multimedia border element capabilities, including SIP mediation, topology hiding, and media transcoding
Supports up to 1024 channels in a 1U chassis
Wireline and wireless support, including ENUM
NEBS 3 carrier-grade design uses independent network interfaces to separate transport, signaling, and OAM&P
Works with load balancers
Provides a flexible, cost-effective platform that can evolve from TDM-IP to all IP
Can reduce complexity and administrative overhead for VoIP services, and allows on-the-fly voice coder conversion
Facilitates efficient operations between incompatible network elements in a service provider infrastructure
Allows easy scalability from 96 to 1024 channels in a small footprint
Enables fast connection time and lower phone charges because callers can connect to each other directly without using the PSTN
Provides high reliability and service availability