IMG 2020
Integrated gateway solutions to supercharge connections between networks, services and subscribers with ease and scale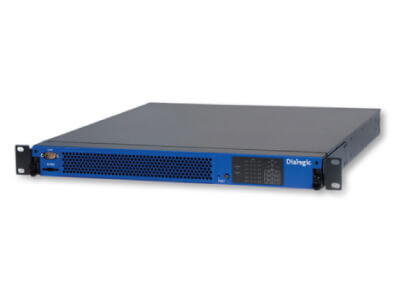 The Dialogic® IMG 2020 Integrated Media Gateway enables interworking between IP and PSTN networks via high-density optical, telephony, and Ethernet connections in a compact 1U form factor. It transforms media and signaling to support efficient and reliable voice, fax and multimedia sessions for mobile and cloud-based applications.   The IMG 2020 secures sessions across IP and mixed network boundaries in support of service level agreements.
Along with providing a broad range of scalability in a small footprint, the IMG 2020 handles signaling and media in a single carrier-grade chassis and can deliver SIP services into SS7, SIGTRAN, PRI, and SIP-I networks. The IMG 2020 also manages sessions through capabilities that include SIP mediation, SIP-to-H.323 interworking, SIP back-to-back user agent (B2BUA), and IP-to-IP transcoding of voice and video for network access applications.
High Density and Versatility
With its high density and versatility, the IMG 2020 can help wireless and wireline service providers add new Value-Added Services (VAS) quickly, and provide a clear migration path to an all-IP network. The IMG 2020 is also an excellent option for retail, wholesale, and enhanced service VoIP deployments, as well as contact centers and mobile VAS.
The IMG 2020 also offers energy efficiency and hardware components where hazardous substances have been minimized, which can help operators and contact centers seeking to fulfill "green" initiatives.
Easy Management and Fast Maintenance
1U high-density design, element management system, and software licensing that allows in-service capacity expansion make the BorderNet 2020 IMG easy to manage and scale. Its NEBS-3 carrier-ready design uses independent network interfaces to separate transport, signaling, and OAM&P for reliability and enhanced service availability.
Fast maintenance features, such as hot-swappable power supplies, field-replaceable motherboard trays, and graceful upgrades address the flexibility and ease of operation that carriers need and increases reliability in the field.
The IMG 2020 also features the Dialogic® Programmable Protocol Language (PPL), which allows rapid implementation of SS7 ISUP variants and other signaling changes.
Supports up to 2,016 channels of SS7 signaling, call routing, call translation, and IP transcoding in a single 1U chassis
Simultaneous support for SS7 ISUP, SIGTRAN M3UA, and PRI signaling interworking with SIP and SIP-I
Multimedia border element capabilities, including SIP mediation, topology hiding, and media transcoding
Field replaceable components, such as power supplies, optical modules, and motherboard tray
NEBS-3 carrier-ready design uses independent network interfaces to separate transport, signaling, and OAM&P
Software license upgrades
Works with load balancers
Can significantly reduce capital and operating expenses
Provides a flexible, cost-effective platform that can evolve from a TDM-IP to an all-IP environment
Facilitates efficient operations between incompatible network elements in a service provider infrastructure
Supports ease of operation and maintenance coupled with increased reliability
Provides reliable throughput and enhanced service availability
Scales easily in-service as capacity requirements increase
Optimizes distribution of SIP traffic and improves scalability and fault tolerance
AC Power Supply Range

- 100 - 132 VAC (115 VAC nominal)
- 180 - 264 VAC (230 VAC nominal)

DC Power Supply Range

-36 to -60 VDC (-48 VDC nominal)

Operating temperature range

0 to +50 °C, 95% relative humidity non-condensing

Storage temperature range

-10 to +75 °C, 95% relative humidity non-condensing

Dimensions

- 1.72 in (43.7 mm) high
- 16.97 in (431 mm) wide
- 19.67 in (499.6 mm) deep

Weight

24 lb (10.9 kg)

Field replaceable item

- Fan filter (available in 10-packs)
- Power supplies
- OC-3/STM-1 optical module
- Motherboard tray
- Up to four (4) DSP modules

Resiliency

- SS7 signaling: 1+1 active/standby redundancy
- Smart IP probing
- Automated failover (Ethernet links)
- Failover via automatic protection switching (optical links)
- Graceful busy out per trunk group
- Virtual IP addresses for SIP load balancing (via third-party server)
- Call release due to media inactivity timeouts
- Dual, hot swappable, AC/DC power supplies

Capacity

- 128 - 768 TDM channels per 1U shelf with Rear I/O Type 1 (scalable from 4 E1/5 T1 to 24 E1/T1)
- 672 - 2016 TDM channels per 1U shelf with Rear I/O Type 2 (supports either Optical 0C3 interface or 3 DS3s)
- 100 - 4500 VoIP channels per 1U shelf
- 50 to 2250 SBC voice sessions
- 5 - 430 SBC video transcoding sessions per 1U shelf