OmniAccess Stellar AP1230
Indoor ultra-high performance 802.11ac Wave 2 wireless access points for high density deployments.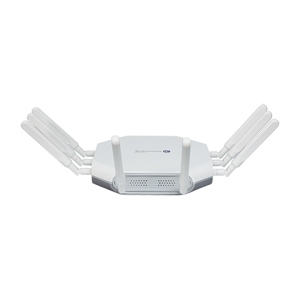 Multifunctional Alcatel-Lucent OmniAccess Stellar AP1230 series access points are high end, multi-gig Ethernet 802.11ac Wave 2 APs for high density and key IT applications in large deployments. OmniAccess Stellar AP1230 series indoor Wi-Fi access points provide high throughput and a seamless user experience.
The high-performance 802.11ac AP1230 series features enhanced WLAN technology with RF Radio Dynamic Adjustment, a distributed control Wi-Fi architecture, secure network admission control with unified access, built-in application intelligence and analytics, making it ideal for enterprises of all sizes demanding a simple, secure and scalable wireless solution.
Achieve our highest speeds and best performance for your network services and applications
Ensure your users have network access anywhere on your campus
Mount APs securely in a variety of indoor locations
Both OmniVista platforms, OmniVista 2500 and OmniVista Cirrus, embed a visionary controllerless architecture, providing user-friendly workflows for unified access plus an integrated unified policy authentication manager
RF management: Radio Dynamic Adjustment (RDA) technology automatically assigns channels and power settings, provides DFS/TPC, and ensures that access points stay clear of all radio frequency interference (RFI) sources to deliver reliable, high-performance wireless LANs
Supports a maximum concurrent data rate of 4.266 Gb/s (dual 1733 Mb/s in 5 GHz and 800 Mb/s in 2.4 GHz)
Broad selection of antennas, delivering optimal coverage for a variety of deployment scenarios
Supports direct DC power and Power over Ethernet (PoE)
Secure web-managed (HTTPS) cluster deployment. Operates in cluster architecture by default
Zero-touch provisioning (ZTP)
OmniVista 2500 Managed Deployment
Embeds a visionary controllerless architecture, providing user-friendly workflows for unified access plus an integrated unified policy authentication manager
Plug and Play Deployment
Operates in a secure (https) web-managed cluster architecture to provide simplified plug-and-okay deployment
Easy guest management
Supports role-based access, including GuestOperator access which simplifies guest account creation and management
OAW-AP1231-RW Indoor high-end Enterprise 802.11ac MU-MIMO AP, Tri-Radio, 11n 4×4:4 + 11ac 4×4:4 + 11ac 4×4:4, 2.5 GbE+1 GbE, integrated BLE, 1x USB, 1x console, integrated antennas. Restricted regulatory domain: Rest of world product, and MUST NOT be used for deployments in the United States, Japan or Israel.

OAW-AP1231-US Indoor high-end Enterprise 802.11ac MU-MIMO AP, Tri-Radio, 11n 4×4:4 + 11ac 4×4:4 + 11ac 4×4:4, 2.5 GbE+1 GbE, integrated BLE, 1x USB, 1x console, integrated antennas. Restricted regulatory domain: United States.

OAW-AP1231-IS Indoor high-end Enterprise 802.11ac MU-MIMO AP, Tri-Radio, 11n 4×4:4 + 11ac 4×4:4 + 11ac 4×4:4, 2.5 GbE+1 GbE, integrated BLE, 1x USB, 1x console, integrated antennas. Restricted regulatory domain: Israel.

OAW-AP1232-RW Indoor high end Enterprise 802.11ac MU-MIMO AP, Tri-Radio, 11n 4×4:4 + 11ac 4×4:4 + 11ac 4×4:4, 2.5 GbE+1 GbE, integrated BLE, 1x USB, 1x console, antenna connectors. Restricted regulatory domain: Rest of world product, and MUST NOT be used for deployments in the United States, Japan or Israel.

OAW-AP1232-US Indoor high end Enterprise 802.11ac MU-MIMO AP, Tri-Radio, 11n 4×4:4 + 11ac 4×4:4 + 11ac 4×4:4, 2.5 GbE+1 GbE, integrated BLE, 1x USB, 1x console, antenna connectors. Restricted regulatory domain: United States.

OAW-AP1232-IS Indoor high end Enterprise 802.11ac MU-MIMO AP, Tri-Radio, 11n 4×4:4 + 11ac 4×4:4 + 11ac 4×4:4, 2.5 GbE+1 GbE, integrated BLE, 1x USB, 1x console, antenna connectors. Restricted regulatory domain: Israel.

OAW-AP-MNT-B OmniAccess Indoor mounting kit for AP1101, AP122X, AP123X, Type B1(9/16") and B2(15/16") for T shaped ceiling rail mounting. Standard configuration in the product packaging. Optional for customer ordering

OAW-AP-MNT-W OmniAccess Indoor mounting kit for AP1101, AP122X, AP123X, Type W wall and ceiling mounting with screws. Optional for customer ordering

OAW-AP-MNT-C OmniAccess Indoor mounting kit for AP1101, AP122X, AP123X, Type C1(Open Silhouette) and C2 (Flanged Interlude), for other shaped ceiling rail mounting. Optional for customer ordering