OmniAccess Stellar AP1360
An 802.11ax (Wi-Fi 6) IP67 rated for harsh outdoor environments access point.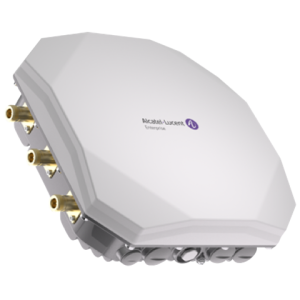 The Alcatel-Lucent OmniAccess® Stellar Outdoor AP1360 access point (AP) series with 802.11 ax technology enables faster speeds, more capacity, and efficient airtime allocation for clients on both 2.4 GHz and 5 GHz Wi-Fi bands. The AP1360 series access points address today's challenging mobility and IoT demands and are designed for harsh outdoor environments, such as exposure to high and low temperatures, persistent moisture and precipitation, and industrial strength surge protection.
IP67 rated for harsh outdoor environments.
Designed to accommodate diverse growing capacity needs of next generation mobility and IoT enabled networks.
Powered with three built in Wi-Fi radios; two radios 2.4Ghz/5Ghz serving high density Wi-Fi clients and a full band radio dedicated for scanning, delivering highly predictable wIPS/wIDS services inherently improving network security and Wi-Fi quality.
Also has an integrated Bluetooth/Zigbee radio enabling location and building automation services.
802.11 ax (Wi-Fi 6) high efficiency features.
Orthogonal frequency division multiple access (OFDMA), multi-user multiple input, multiple output (MU-MIMO), 1024 quadrature amplitude modulation mode (1024-QAM), basic service set (BSS) coloring, extended range (ER), target wake time (TWT) and transmit beamforming.
Delivers enterprise grade security and scale with simplicity.
Security is enforced at every step starting at the network edge allowing unparalleled scale in network capacity.
Cloud enabled with OmniVista Cirrus.
Powers a secure, resilient and scalable cloud-based network management platform delivering a hassle-free network deployment and easy service rollout with advanced analytics.
On premises deployment with OmniVista 2500.
Simplified plug and play deployment, zero-touch provisioning, role-based management access and a built in customizable captive portal.
Quality of service for unified communication apps.
Supports finely tuned, quality of service (QoS) parameters to differentiate and provide appropriate QoS for each application such as voice, video and desktop sharing.
Superb RF management.
RDA technology automatically assigns channels (DFS) and power settings (TPC) and ensures that access points stay clear of all radio frequency interference (RFI) sources to deliver reliable, high-performance WLAN.
High Performance
Increased throughput in high-density environments.
Power
Extended battery life of connected devices.
Rugged
Operating temperature: -40 degree to 65 degree