OmniAccess Wireless Access Points
Our dependent, remote and instant access points deliver a high-performance wireless mobility solution for enterprises.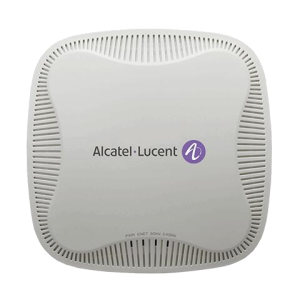 Small and lightweight, Alcatel-Lucent OmniAccess Access Points work with OmniAccess WLAN switches/controllers to provide a high performance wireless mobility solution for enterprises. They can be securely deployed in a variety of locations such as on walls, cubicles, desktops, and in the ceiling, and the AP antenna diversity allows for the best possible signal processing using dual, omni-directional antennas.
OmniAccess APs have an extended lifespan because they automatically configure themselves across any L2/L3 network using discovery, allowing easy upgrades when new features, capabilities, or standards emerge.
Deliver superb Wi-Fi performance in a wide range of indoor and outdoor environments

Control Access Points (APs) locally or remotely, or in controller-less Instant mode

Ensure that devices are connected to the best AP as users move about your campus
ClientMatch technology continuously gathers connection metrics from mobile devices and steers clients to the best AP and radio on the WLAN
AirGroup works across multiple subnets and can free up to 10 times the Wi-Fi bandwidth by preventing multicast traffic
AppRF technology continuously evaluates usage and performance to ensure optimal bandwidth, priority and network paths
Spectrum Analysis capabilities provide visibility into all sources of RF interference and their effects on WLAN performance
Adaptive Radio Management (ARM) dynamically adapts to the RF environment to ensure Wi-Fi stability, predictability and optimal performance
Flexibility
Build your network you way, with flexible deployment options and multi-environment solutions.
Security
To secure the air, OmniAccess APs support RFProject for integrated wireless intrusion protection.
Performance
Application awareness offers users the best connection at all times, plus traffic classification lets you apply policies to prioritize mission-critical applications.