OmniPCX™ Enterprise Communication Server
World-class business telephony features for medium, large and very large-sized companies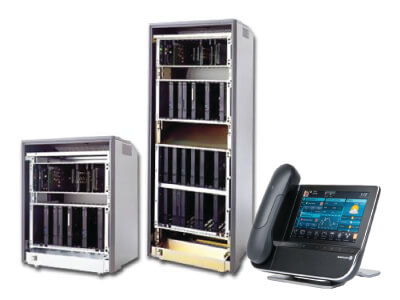 As a key component of the OpenTouch™ Suite, the Alcatel-Lucent OmniPCX Enterprise Communication Server (CS) is a highly scalable solution based on a pure software communications server platform that provides multimedia call processing for both Alcatel-Lucent and third-party clients/phones including TDM, IP and SIP. It offers broad scalability ranging from 10 to 100,000 users who can be spread across multiple geographical sites. Plus, it offers highly reliable, real-time, carrier-grade performance solutions with an unmatched 99.999% uptime.
In recognition of the complex nature of addressing multiple communication needs across different enterprise and business market segments (small, mid and large), Alcatel-Lucent has developed a next-generation communication software suite – OpenTouch™. The OpenTouch suite is based on a next generation communication architecture for Enterprises, serving both customers premised or cloud based deployments. The approach is to build a progressive evolution path from Instant & Visual interactions to full Immersive Communications. This can be done by leveraging IP, UC, video and wireless technologies into a consistent communication experience, ensuring a smooth, timely, and gradual transition to the next generation SIP and Web based solutions.
Intuitive telephony experience with dynamic vocal and graphical guidance available on desk phones, conference phones, fax devices, wireless DECT or WLAN handsets and software clients
Native off-site mobility support allows a single contact number, reverse calls and on-call services, and is open to any mobile
Native contact center application
Native VoIP software clients on Microsoft PC, Apple Mac, Apple iPad, Apple iPhone
Centrally managed media gateways: Digital or IP-connected cabinets that provide high-density connectivity for analog, digital phones and trunks. Media gateways also provide media and security services as well as business continuity options
Strong integration with visual and mobile collaboration software and infrastructure, including OpenTouch™ conversation and HD video conferencing
Open interfaces to a large ecosystem of applications leveraging embedded monitoring, routing, location, notification, and hospitality APIs
Flexible device and trunk connectivity: IP, SIP, digital and analog ports are natively supported
Flexible communication cost control options include least-cost routing, voice free ride over IP or off-net SIP centralization
Robust and secure telephony infrastructure offers voice quality and routing policy enforcement, a high performance security solution with embedded encryption, plus multiple levels of redundancy including branch office survivability and geographic disaster recovery
Highly flexible architecture can accommodate centralized, distributed or hybrid networks with smooth transformation paths to centralized IP networks. Works on Alcatel-Lucent LAN/WLAN networks and other vendors' networks. Delivery on appliances and on VMware virtualized infrastructure
High scalability deployed in multi-national Fortune 500 companies
Comprehensive centralized management and SLA control options
Improves communication, boosting employee productivity and customer interaction by delivering a comprehensive set of telephony services to all staff members at all locations
Improves collaboration with strong integration with OpenTouch™ multi-party, multimedia and multi-device conversation services
Optimizes operational efficiency, customer satisfaction and safety and security through a large ecosystem of applications in hospitality, healthcare, education, transportation, energy, finance and banking, customer service, state and local government
Increases business continuity thanks to a robust telephony infrastructure deployed in hundreds of thousands of enterprises including extra-large global companies
Lowers telecom bills with embedded least cost routing, native VoIP over Wide Area Networks and centralized off-net digital and SIP trunks
Lowers total cost of ownership (TCO) through highly scalable software enabling centralized and virtualized deployments that reduce operational costs and improve IT agility
Protects IT investment with advanced features enabled for medium- and large-sized companies, without needing dedicated, high-level technical resources and
The OmniPCX Enterprise component can be used alone to address pure telephony centric expectations.
The offer, based on user-centric/ multi-devices concept covers three market segments when the appropriate packages are added. The number of final users is the primary determining factor in choosing one solution rather than the other:
From 50 to 1500 users: OpenTouch Business Edition – Hosted on a shared server
This is a comprehensive all-in-one server communication solution, with the server hosted in a blade. There can be one all-in-one server instance per blade unit. An OmniVista 8770 management application on a separate blade can be used to manage a range of OpenTouch Business Edition hosted instances
From 500 to 100,000 users: OpenTouch Multimedia Services
This consists of an application server which enhances and complements an existing OmniPCX Enterprise deployment (with or without OmniTouch 8400 ICS) in order to deploy Unified Communication services, The communications services can manage the 8082 My IC Phone sets with specific applications and "video ready" communications.
The offer relies on a simplified user-centric/ multi-devices concept covering three market segments along with the appropriate packages.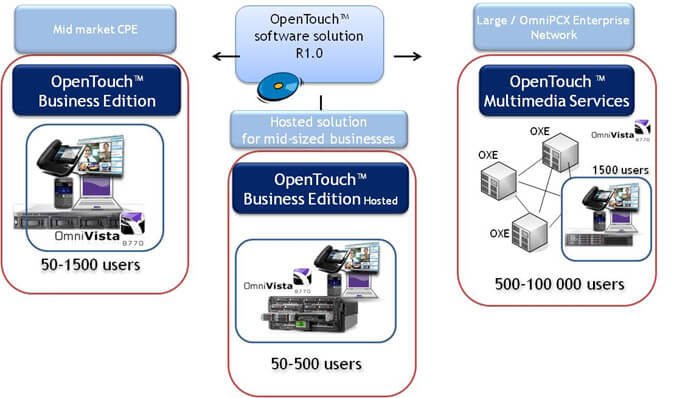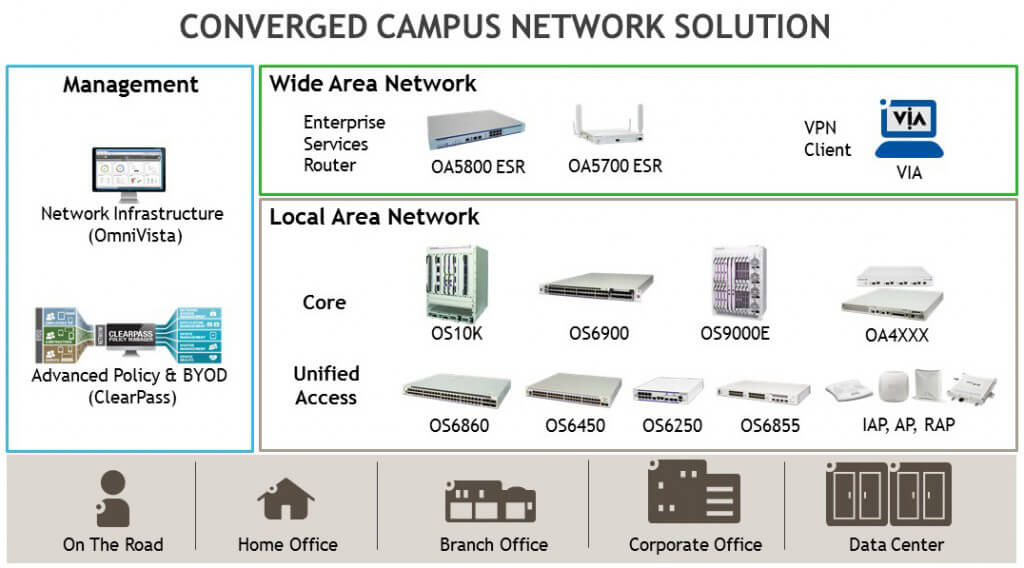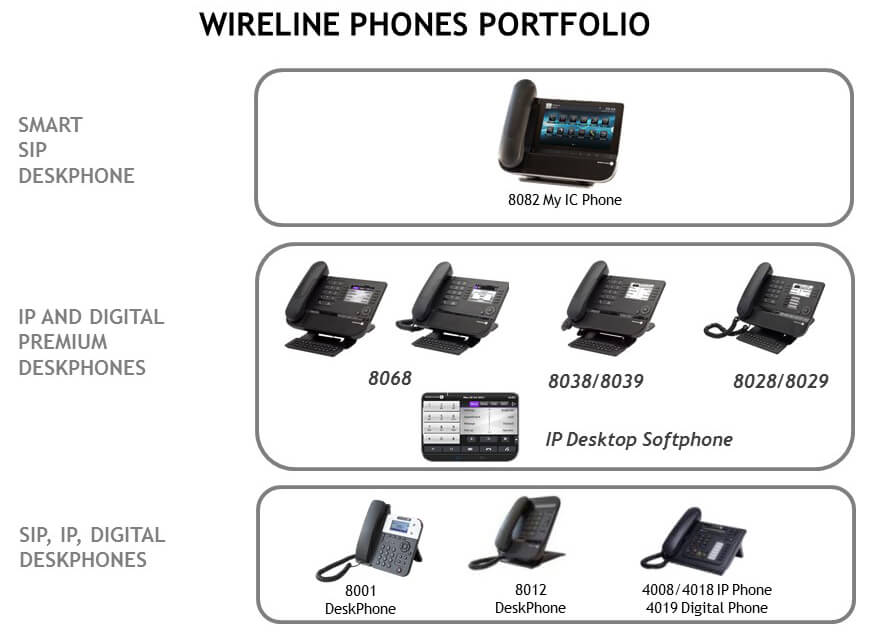 In case of IP/SIP solution, the OmniPCX Media Service (OXE MS) is a software component allowing OmniPCX Enterprise (OXE) full software solution deployment, without Hardware Media Gateway.  Associated to an OXE Software deployment, Alcatel-Lucent can offer a hardware agnostic solution with a Green computing approach.
This solution can be used in a data center deployment approach, avoiding deploying a Hardware Gateway in this centralized "Software area".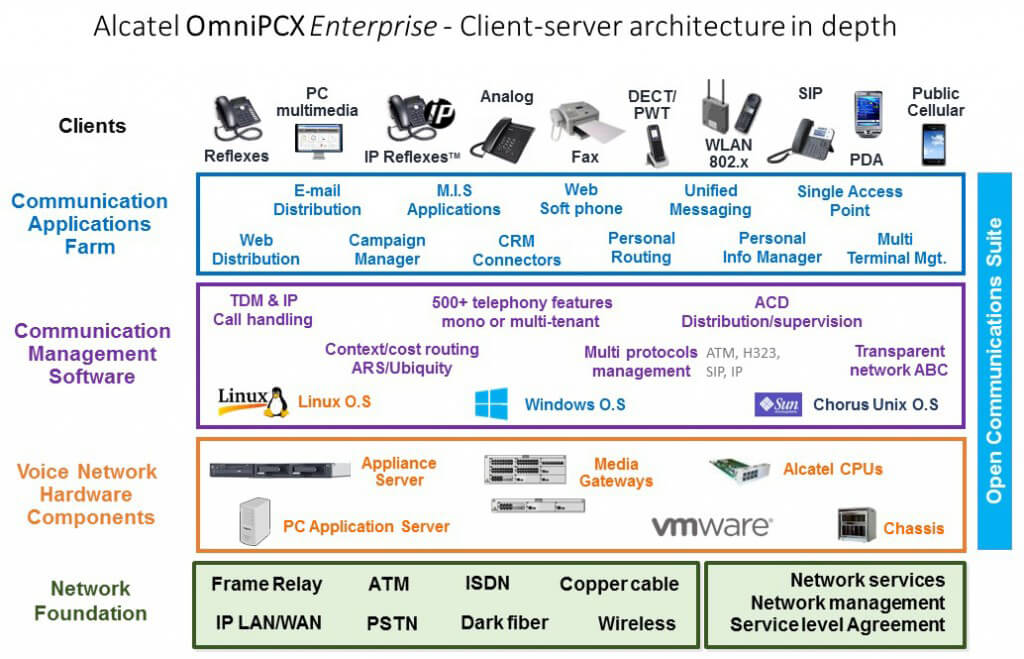 Note: Even in case of central software deployment, a Hardware Media Gateway can be associated in remote/branch office for PSTN backup connectivity for instance.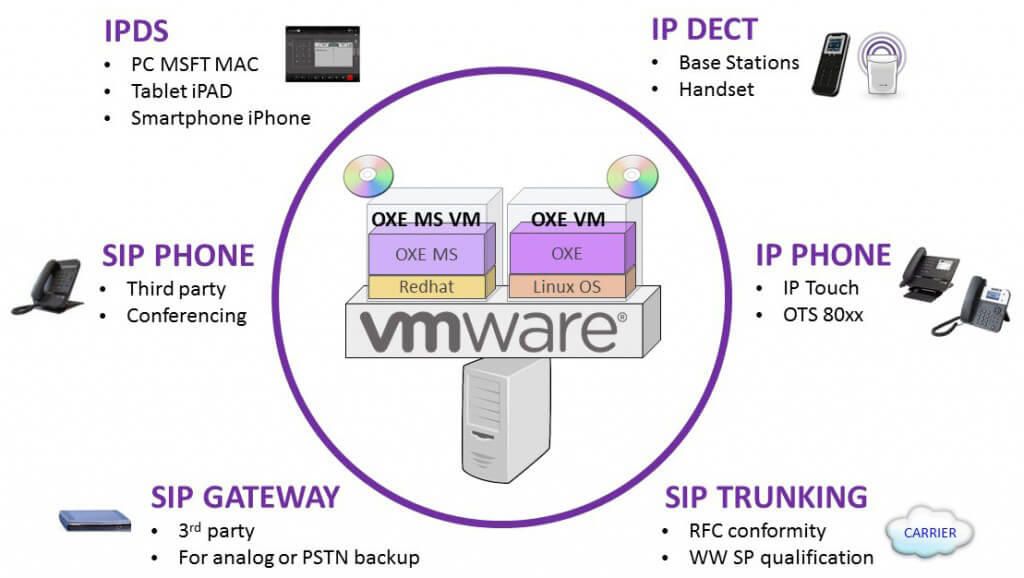 A recent project is a twin tower with a total of over 1,000 users. They planned to replace their old NEC PABX with the objectives of acquiring for a new technology IP PABX system ready for the future growth and also enhancing their communication services to increase user satisfaction. They also need to have an efficient communication for the staff to increase productivity with the use of Alcatel mobile solutions. They choose Alcatel-Lucent OmniPCX Enterprise Solution because of its flexibility and future upgradeability. With our professional project management team and highly trained engineers, their PABX migration has been smooth and changed overnight with only a short period of telephone service interruption. The management of the customer is very pleased with our job and expertise.
An international 5-star hotel group needs to provide a very high level of customer service to their guests. So indoor telephony services are regarded as one of the most important services delivered to their customers and we are providing 24 hours round-the-clock on-site telephone maintenance service to make sure their Alcatel-Lucent OmniPCX Enterprise System up and running without any interruption. We stick to our top-grade Service Level Agreement of providing a highly responsive and quality support service to the customer. The hotel management is very pleased to use our service for 5 consecutive years.