OmniPCX™ Office Rich Communication Edition
An all-in-one, end-to-end converged solution for voice and data, with zero-touch deployment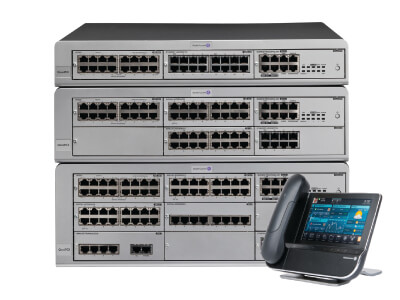 The cornerstone of Alcatel-Lucent's small-to-medium business (SMB) offering is the OmniPCX™ Office Rich Communication Edition (RCE). It's easy to install, use and maintain. OmniPCX Office RCE platforms cover any SMB communications needs, from 5 to 200 users. OmniPCX Office RCE Communication servers combine a VoIP core with support for digital. And the OmniPCX Office RCE is backed by a broad portfolio of compatible Alcatel-Lucent products for SMBs.
All platforms are equipped with a high-performance Power CPU Extended Edition with integrated MSDB 8-GB memory card and up to 48 VoIP channels.
Standard features
Personal assistant
Instant Messaging
Integrated computer-telephone integration (CTI) server
Ten minutes customized hold music
Four system languages
Voicemail and user mailbox greeting with two ports and 60 minutes of voicemail storage
Four VoIP channel licenses
200 basic user licenses for telephony
Call forwarding: automatic transfer of incoming calls
Supports analog, digital, IP and mobile phones and PC softphones
Additional options
Automated Attendant (AA), Multiple AA (MLAA)
SIP and CTI openness
SIP trunking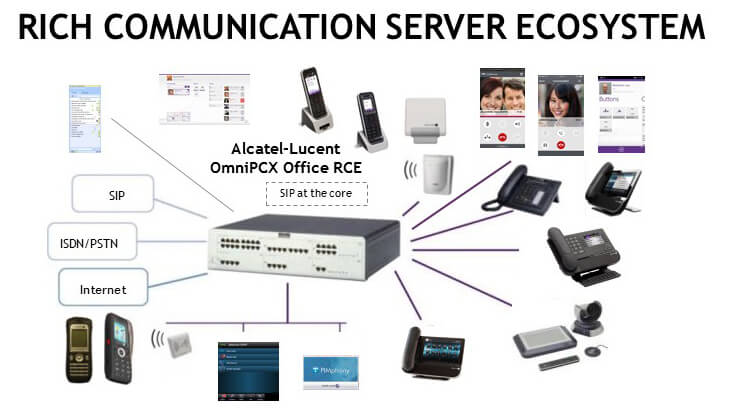 Modular, flexible and scalable to meet the needs of SMBs from 5 to 200 users
Offers next-generation enterprise communication experience on PC, deskphones, smartphones
Provides full-featured access to enterprise communications services across devices, on or off site
Increases communication efficiency for employees, offering new opportunities to reach contacts
Increases customer satisfaction by improving call resolution with embedded voice-centric customer service
Reduces communication costs and enables a choice of network configurations and IP, IP/TDM or TDM endpoints, minimizing additional investment and enabling a smooth migration thanks to IP telephony infrastructure flexibility and software scalability
Reduces total cost of ownership for business communication and conversation services with simplified and unified management
Easy installation in full voice environment and/or converged voice/data environment at reduced cost with plug-and-play and zero-touch deployment
Optimized installation ready for next generation of communications with Session Initiation Protocol (SIP) at the core
The Alcatel-Lucent OmniPCX Office RCE is delivered with an efficient and flexible hardware.  In order to suit the exact size of your company and work out the system capability according to your needs, four hardware platforms are available.  The hardware elements, which host the Alcatel-Lucent OmniPCX Office RCE software, are adaptable and simple to maintain.  They even allow remote maintenance.
The Compact Unit
A native wall mounted cabinet
Intuitive and cost effective
For 6 to 20 regular users
For 6 to 60 IP users
The 19" Units
3 rack size cabinets (Alcatel-Lucent OmniPCX Office Small, Medium and Large Edition) stackable and rackable (into a 19" rack)
Equipped with enhanced processing unit and hard disk
Wall mounted capabilities for Rack 1 and 2
For up to 236 regular users
For up to 200 IP users
All of those units have an 110V/220V power supply and allow average 10 minutes battery backup (except the Compact Unit). Extended autonomy capacity can be proposed upon request.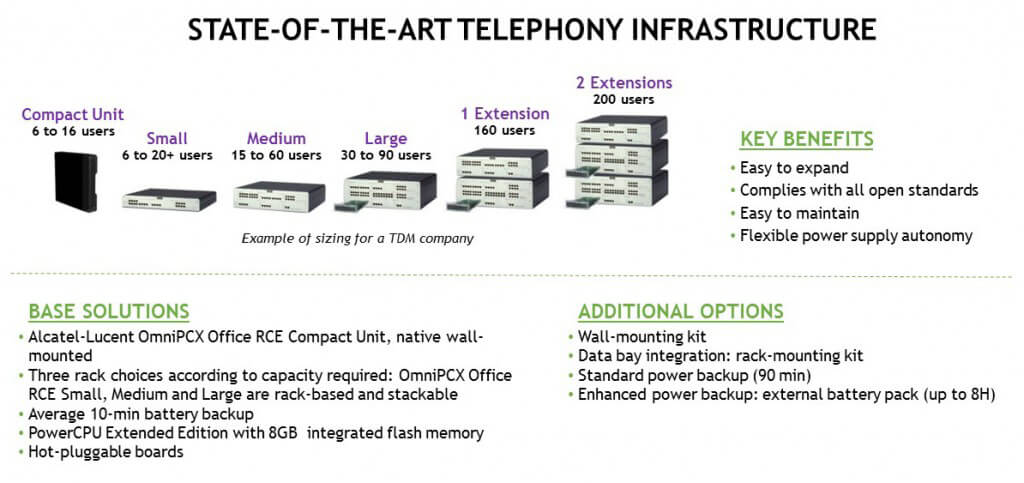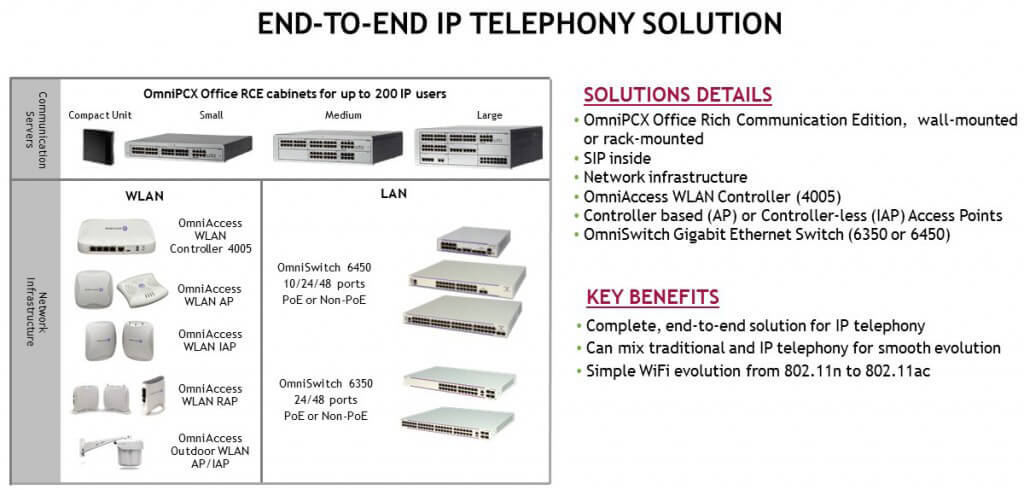 Use the boards of the OmniPCX Office RCE to benefit from the full potential of your system. They are highly modular for a customized offer.  The portfolio covers:
CPUs boards: depending upon the services needed
LAN boards: to create or expand a LAN (see LAN section)
Line boards: for Analog and Digital sets
Trunk boards: for Analog, PCM, ISDN connectivity
VoIP boards: for IP User Telephony and IP Carrier "Trunking"
Mixed  boards: Modular interfaces for smaller configurations
The Alcatel-Lucent OpenTouch Suite for SMB offer is completely modular and future-proof as it fits to your needs whatever the evolution of your daily business.  If there is a need an additional feature, a new application, add terminals or expand your capacity, the selected solution can be easily extended at any time and at your own pace.
To ensure you get a communication solution that can evolve with your needs, the Alcatel-Lucent OpenTouch Suite for SMB relies on a flexible and scalable architecture. You build your solution by combining the elements the most adapted to your expectations and budget among:
Several Communication Suites and Value–added Software options
A wide range of Applications for communications,
A full range of powerful Hardware platforms,
A range of Networking infrastructures, wired and wireless
A complete range of professional wired and wireless sets.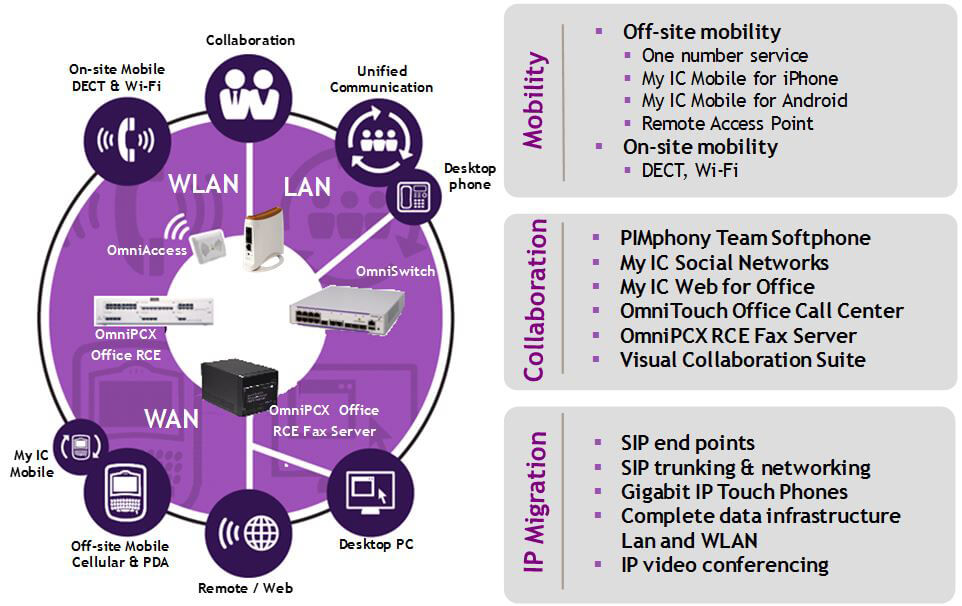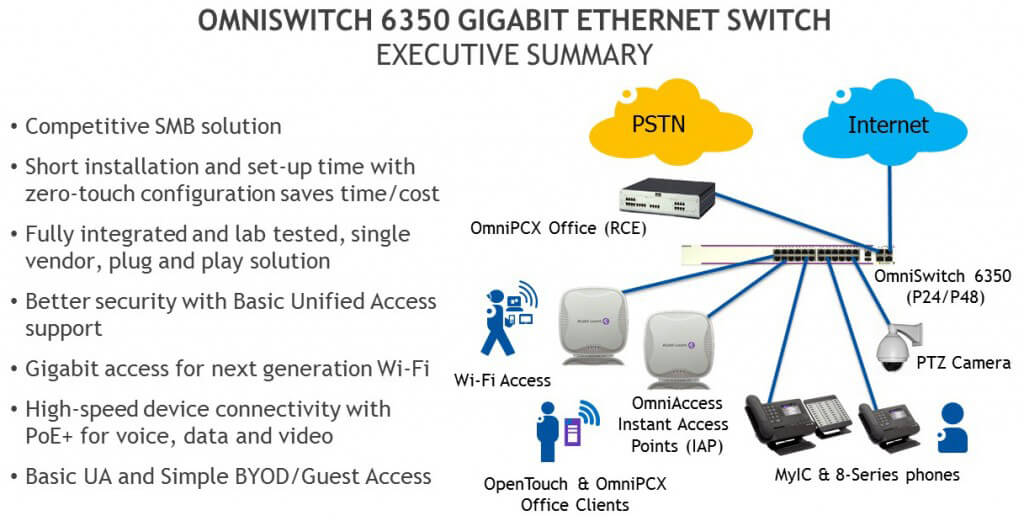 One major success in Hong Kong for the Alcatel RCE platform is the major infrastructure project of HK-Zhuhai-Macau Bridge with more than 10 site offices relying on it as their communication platform. The total number of users for this particular site is close to 2,000 using Alcatel advanced digital phones.
Alcatel-Lucent understands the needs of SMBs and has the proven credentials to deliver integrated, end-to-end communication solutions that address these needs.  By reaching the 17 million end-user mark with its flagship product, the Alcatel-Lucent OmniPCX™ Office Rich Communication Edition (RCE), Alcatel-Lucent is positioned as a recognized leader in the SMB market.  The Alcatel-Lucent OpenTouch Suite for SMBs offer business-grade network infrastructure, communication-collaboration and mobility solutions, delivered across broadband and mobile networks.  These solutions provide the cost control, security and usage features that support the needs of SMB customers.  Alcatel-Lucent is committed to the SMB market and is now the recognized leader and trendsetter by delivering Alcatel-Lucent OpenTouch Suite for SMBs.