OmniSwitch 2220
Gigabit WebSmart family of switches provide a simple, secure, and smart business network at affordable prices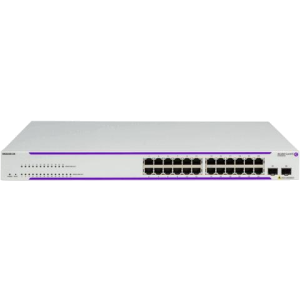 With Alcatel-Lucent OmniSwitch 2220 Gigabit WebSmart family of switches, you can achieve reliable business class network performance and security without paying for advanced network management features. These switches are a lower-priced alternative to managed switches for wired connectivity while maintaining performance, Quality of Service (QoS) and scalability using a simplified web management interface.
The Alcatel-Lucent OmniSwitch 2220 family is embedded with the latest technology innovations, and offers maximum investment protection.
The Alcatel-Lucent OmniSwitch 2220 benefits deployments that need to have:
High speed desktop connectivity
Secure Wireless connectivity
Unified communication connectivity (IP telephony, video and converged solutions)
8, 24-port and 48-port, Power over Ethernet (PoE+) and non-PoE models with fixed small form factor pluggable (SFP) 1G uplink interfaces
Optimized for energy efficiency
Simplified Web based management
Easy ACLs
Management:
Web based GUI (HTTP), SNMP v1/v2/V3, RMON, Cable Test Diagnostics
Security:
802.1X RADIUS, MAC Filtering/Port Security, Guest VLAN, Broadcast Storm Recovery
Convergence:
Enhanced Voice over IP (VoIP) VLAN, Auto-VoIP VLAN for Alcatel-Lucent Enterprise VoIP phones, IEEE 802.3af/.at PoE+ for IP phones, WLAN access points and video cameras
Simple/easy configuration and management
Designed to be easy to deploy and use by small business or partners
Network Security
Enhanced security and network management features, such as 802. 1x.
Performance and reliability
Tested to deliver high availability and performance you would expect from an Alcatel-Lucent Enterprise switch.
IP telephony support
QoS features to prioritize delay-sensitive services such as voice, video and simplified unified communications deployments.
OS2220-P8
OS2220-P24
OS2220-P48
OS2220-8
OS2220-24
OS2220-48