OmniSwitch 2360
The OmniSwitch 2360 family is simple, flexible, secure and ideal for workstation, access point, and IP telephony deployments.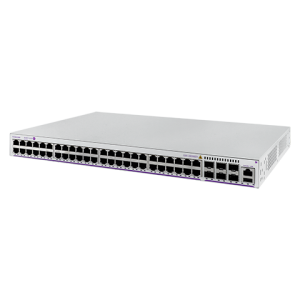 The Alcatel-Lucent OmniSwitch 2360 Stackable Gigabit Ethernet LAN switch family delivers value and is optimised for small and medium businesses (SMB), as well as branch/campus workgroup solutions.
The enterprise-grade OmniSwitch 2360 family delivers high- performance, availability, security, and scalability. This family of switches provides a solid foundation to support business communications, applications, users and devices. Unified network management is employed for a consistent wired and wireless experience. The OmniSwitch 2360 family is embedded with the latest technology innovations and offers maximum investment protection.
Cloud enabled with Alcatel-Lucent OmniVista Cirrus Network Management as a Service for secure, resilient, and scalable cloud-based network management
High-availability with virtual chassis concept, remote/redundant stacking links, primary/secondary unit failover and configuration rollback
Comprehensive 802.1X features to control access to the network and flexible device and user authentication with Alcatel-Lucent Access Guardian (IEEE 802.1x/MAC)
24 and 48 Gigabit Ethernet data or PoE+ ports with line-rate performance
Gigabit Ethernet SFP uplink ports or 10 Gigabit Ethernet SFP+ uplink ports (X models)
10 GigE virtual chassis bandwidth up to 4 units (stacking) or 216 ports
Perpetual and fast PoE+ support across all PoE models
Compact fan-less models for co-location work environments
Simple
Zero-touch provisioning with automated setup, configuration, and end-to-end virtual LAN provisioning.
Flexible
Investment protection, flexibility, easy, deployment, operation, and maintenance.
Secure
Advanced access control. Fully secures the network at the edge.
OS2360-24
OS2360-P24
OS2360-48
OS2360-P48
OS2360-P24X
OS2360-P48X