OmniSwitch 6465T
A versatile, fully managed, extended temperature ruggedized, layer 3 Ethernet switch.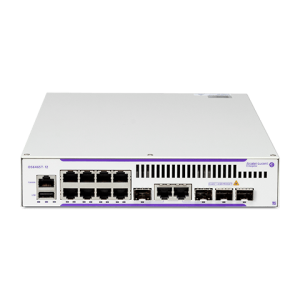 The Alcatel Lucent OmniSwitch 6465T switches are a family of extended temperature, compact, gigabit Ethernet switches that are ideal for Residential/Metro Ethernet triple play applications. These PoE switches offer a value, power efficient access for powering smart building subsystems such as lighting, CCTV and HVAC. The switches run on the widely deployed and field-proven Alcatel-Lucent Operating system that offers high security, reliability, performance and easy management. These switches are designed to operate an extended temperature range offering reliable operation in -10 °C to 60 °C.
Extended temperature PoE model can provide power to all kinds of new age devices
Supports IEEE 1588v2 PTP for the nanosecond-level precision timing requirements of devices and applications
Enables end-to-end encrypted networks with MACsec on all ports
Space efficient form factor
Out-of-the-box Zero-touch provisioning and network automation
Extended temperature range
Virtual chassis to connect multiple switches for creating a single chassis-like entry
Delivers redundant ring topologies using industry standard protocols
Switch backup and restore
IEEE 1588v2PTP support
Simplified installation and service provisioning
Layer 2 security with MACsec
Resiliency
Operates at an extended temperature range from -10C to +60C.
High PoE
Offers 110W of power for PoE attached devices
MACsec Support
MACsec encryption support on all ports provides a secure network access ensuring data confidentiality & integrity
Scalability
Up to 4 switches can be connected in a Virtual Chassis configuration