OmniSwitch 6865
Industrial-grade, highly secure, intelligent switches for superior performance in mission-critical applications running in harsh environments or extreme temperatures.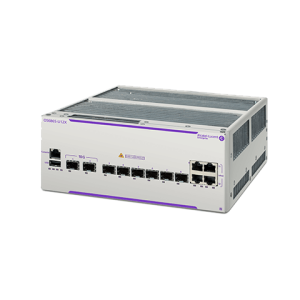 Our newest generation of Hardened Ethernet LAN Switches offers the ideal solution for mission-critical applications that need to operate at extreme temperatures and meet stringent EMC/EMI requirements. A high-performance rugged switch that can be stacked to form a virtual chassis, it's designed to be deployed in transportation and traffic control systems, power utilities, video surveillance and other outdoor installations.
Industry-leading features such as SPB-M support and intelligent auto-provisioning ensure a fast, scalable and cost-efficient way of rolling out services at the edge. With a generous PoE budget and HPoE to power wireless access points, card readers, PTZ cameras, digital signages, sensors and more, you'll stay secure, connected and productive, whatever the environment
Offer IP and Gigabit Ethernet in rugged, industrial or outdoor environments
Run critical applications securely and reliably
Power Ethernet devices at the edge of your network (PoE models only)
Advanced industrial PoE capabilities with support for HPoE (75W)
Enables dual ring redundant architectures with 2 built-in 10 Gigabit SFP+ ports that support 10 Gigabits and 1000-X
IEEE 1588v2 PTP capabilities for precise, sub-microsecond timing requirements
Virtual Chassis feature: connect up to 8 switches for redundancy and scalability
Scalable network virtualization architecture over standard Ethernet fabric using SPB-M for bridging and routed services
Auto-fabric technology simplifies installation and service provisioning
Operates at a temperature range from -40°C to +74°C, withstands shock, vibrations and industrial level EMI/EMC tests
Convection-cooled fanless model for increased reliability, MTBF and lower acoustics
Futureproof
HPoE lets you power all your power-hungry edge devices, up to 75W per port.
Cost Saving
Save time and setup costs with zero-touch provisioning and network automation.
Customer experience
Wire-rate 10 Gigabit speeds and advanced QoS keep you connected in the harshest environment.
OS6865-P16X
OS6865-U12X
OS6865-U28X
OS6865-P16XD
OS6865-U12XD
OS6865-U28XD