OmniSwitch 9900
An SDN-ready, high-capacity modular Ethernet LAN switch that's field-proven in enterprise, service provider and data center environments.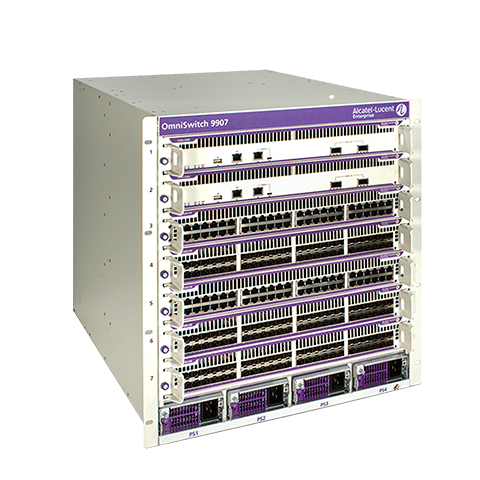 Here's a switch that's leading the pack. A high density, multi-Terabit modular platform offering linear scaling, excellent redundancy, resiliency and high availability. The Alcatel-Lucent OmniSwitch 9900 series modular LAN chassis platform is ideally suited for enterprise core, aggregation and edge environments. Its resilient platform architecture provides control plane and data plane redundancy together with unparalleled scalability to meet demanding resiliency and throughput requirements for evolving enterprises of all sizes.
The OmniSwitch 9900 series offers a broad range of modules supporting 1 GigE, 2.5 GigE, 10 GigE,  40 GigE and 100 GigE ports in an 11-RU chassis form factor, and it offers highest 1 GigE/10GigE port density in its class.  The 40  GigE ports can work in 4×10 GigE mode, and the 100 GigE ports can work in 4×25 GigE mode.
Automate and simplify the end-to-end deployment of campus, data center and cloud-based services, using a flexible fabric architecture straight out of the box
Provide high-capacity PoE and connectivity to devices in your converged campus network
Be prepared to control virtual network profiles and policy management with SDN and virtualization
Modular slots offer versatility in terms of 100 GigE QSFP28, 40 GigE QSFP+, 10 GigE SFP+, 10 G Base-T and 10/100/1000 Base-T ports. Each  QSFP28 port is capable of operating as 100 GigE or 4×25 GigE. Each QSFP+ port is capable of operating as 40 GigE or 4×10 GigE.
Multi-Gigabit module provides for 1/2.5/5/10G Base-T ports
Up to two switches can be connected using virtual chassis technology to create a single chassis-like entity with up to 480 10 GigE ports and 480 GigE ports
Scalable network virtualization architecture with Auto-Fabric IP routing for routed backbone and access provisioning, Shortest Path Bridging (SPB) for bridging and routed services, Edge Virtual Bridging (EVB), Multiple VLAN Registration Protocol (MVRP) and dynamic Virtual Network Profiles (vNP)
Zero-touch provisioning and network automation with out-of-the-box plug-and-play Auto-Fabric for automatic protocol and topology discovery. Auto-Fabric operation extends to IP routing protocol provisioning and IP onboarding
Outstanding Performance
Supports real-time voice, data, storage and video applications for converged scalable networks.
Investment Protection
Modular design enables future growth with inline upgrades offering high density 25G/ 40G/ 50G/ 100G interfaces.
Time-saving
Simplifies wiring and reduces time to deploy edge devices such as VoIP phones, surveillance cameras, 802.11ac access points and more.