PRO™ 9470
Features Noise Blackout technology, which filters out background noise for clearer, more professional conversations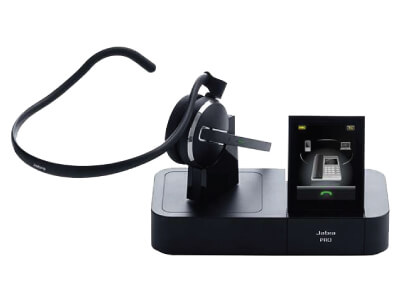 Jabra PRO™ 9400 headset enables you to multi-task with maximum efficiency, switch between rooms and project groups, or simply work at your desk – while staying up to date and in control of your calls. And the future is secured with Jabra PRO™ 9400 headsets offering full UC compatibility.
The PRO 9470 features a mono Speaker and Midi-Boom arm.
This headset offers the ultimate in connectivity.
Specifically designed for executives, managers and other professionals.
It enables employees to connect with their mobile, desk and softphone, simultaneously.
PRO™ 9470 MONO wireless headset with touchscreen optimized for office personnel with triple connectivity
Easy to handle calls from both desk phone, mobile device and softphone
Digital Signal Processing (DSP) for greater intelligibility
SafeTone technology for enhanced hearing protection
Noise Blackout for outstanding noise cancellation
High definition sound with HD Voice / Wideband audio
Multi-device Connectivity
You get greater flexibility and enhanced user experience with Multi-device connectivity technology. You can manage phone calls from several different devices with one single headset.
Crystal Clear Sound & Wideband Audio
Digital Signal Processing (DSP) for clearer sound which is essential for a good conversation. DSP will remove background noise and echo as well as protect the user against sudden high peaks in volume.
High-definition sound with HD Voice and get crystal clear, intelligible communication. You get life-like, vibrant conversations where you can focus on the content and don't have to struggle to understand what the person on the other end of the line is saying.
Remote Asset Management & Remote Call control
Configure and implement the company's audio devices 100% remotely from one central point.
Seamless integration between your phone and headset.
The remote call control gives you the power to multitask and be productive.
150 Meter Wireless Freedom
Answer calls, multitask and move freely around on your terms with wireless mobility up to 150 meters.
Noise Blackout™ & Noise Canceling™ Microphone
Jabra Noise Blackout technology eliminates disturbing background noise such as wind, surrounding conversations or traffic to enhance your voice.
Noise Canceling technology reduces unwanted background noise and the microphones are ideal in crowded and noisy,
open office environments.
Connectivity

Deskphone, Softphone, Mobile phone, Tablet

Wireless Technology

Supports Bluetooth™ for wireless connectivity
DECT

Battery & Power

Talk Range : Up to 495ft
Talk Time : Up to 9 hours
Standby Time : Up to 38 hours
Charge Time : Up to 120 Minutes

Speaker

Listening Mode: One ear
Offers mono sound through one speaker

Microphone Type

Midi

Touch Screen

Yes

Smartsetup

Yes

Wearing Style

Headband
Earhook
Neck band

Certification

Certified by Microsoft
Certified by Avaya