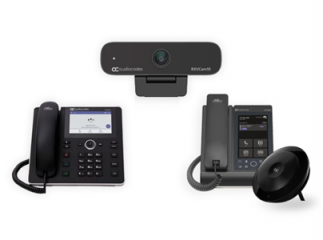 Superb video and audio for productive meetings in smaller spaces at home or in the office.
Features Highlights:
Crystal-clear sound and exceptional image clarity for true collaboration from any small meeting space
Intuitive touch screen interfaces for a familiar Microsoft Teams experience
Very easy to set up and use in any environment
Supports two screens or devices for uninterrupted content sharing and calls
Whether you work from home or in focus rooms in the office, these easy-to-use speaker phone and camera bundles cover all your collaboration needs.
The RXVCam10 delivers crisp images in all lighting conditions, while the C470HD or C450HD's main screen allows you to join a meeting, initiate a callback and retrieve voice mails with just one click. In addition, broad Office 365 capabilities further help to ensure the best possible meeting experience.
These bundles are able to work with two screens or devices: content sharing is possible via a laptop or PC, and a second screen or device allows video calls to continue uninterrupted at the same time.
RX Suite Focus Room Bundles
| | | | | | |
| --- | --- | --- | --- | --- | --- |
| Bundle | Room size | Video | Audio | Productivity | Management |
| RXVCam10-B15 | RXVCam10 | RXVCam10 | RX10 | Meeting Insights | OVOC |
| RXVCam10-B15 | Home | Focus | RXVCam10 | C450HD | Meeting Insights | OVOC |
| RXVCam10-B17 | Home | Focus | Huddle | RXVCam10 | C470HD | Meeting Insights | OVOC |
C470HD Microsoft Teams-native IP phone
C450HD Microsoft Teams-native IP phone
RX10 portable speakerphone