Skype for Business
Former Microsoft Lync – Messaging, meetings, and screen sharing all in one app that works with Office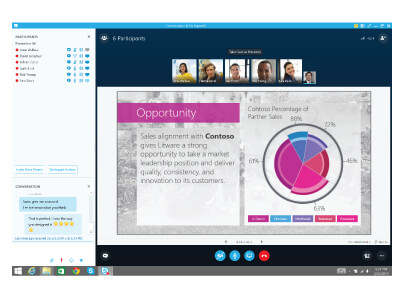 Skype for Business is a communications and collaboration platform that brings together the familiar experience and user love of Skype with the security, compliance, and control that you've come to expect from Microsoft. You get everything you need for conversations in one app – instant messaging, presence, VoIP, audio and video calls or conferences, online meetings and sharing. And because Skype for Business and Microsoft Office Suite work together, it's simple to collaborate right from your Office apps.
Reducing complexity and costs, as well as increasing productivity, reach and freedom to work from anywhere. Meet with up to 250 people using skype —even if they're not on Skype for Business. All they need is a phone or internet connection.
Skype for Business Cloud PABX enables you to use Skype for Business to integrate with your company's existing phone lines for inbound and outbound calls. With Cloud PABX, end users can use Skype for Business to achieve unified communications and complete basic tasks:
Call answer / initiate (by name or number)

One click answer inbound calls. Easily place outbound calls by dialing the full phone number, or just click a name in Skype for Business or Outlook.

Call hold / retrieve

Have multiple calls occurring at the same time. Just answer the next inbound call or place an outbound call, and your current call goes on hold automatically.

Call history

Keep track of all conversations in one place—from IMs, phone calls, impromptu to scheduled meetings. All recorded in your call history and stored in Exchange.

Call delegation and call on-behalf

Make or answer calls on behalf of a person you support. Notifications make it clear to all participants when calls are answered or made for someone else.

Call transfer (blind, consult, and mobile)

Easily transfer calls from your PC to your IP phone, mobile device, or tablet—and every combination in between.

Camp-on

Need to speak to someone when he/she is N/A? You can easily tag people and get notified when their presence changes and they're ready to take phone calls.

Caller ID

Company internal call display a detailed caller ID — you see a picture and job title instead of just a phone number.

Call waiting

When a call comes in while you're in a call or meeting, you get both quiet and regular notifications, so you can accept the call or route it to voicemail.

Call forwarding and simultaneous ring

Never miss a call — set up forwarding rules so your calls can go with you anywhere. Even forward calls to colleagues or to voicemail.

Clients for PC, Mac, and mobile devices

Experience robust calling features on the devices you're already using—from tablets and mobile phones to PCs and desktop IP phones.

Device switching

Need to move a call from a headset to speakerphone quickly? You can easily play your call or meeting on another device with just a couple of clicks.

Do-not-disturb routing and call blocking

Control your inbound communications with presence. Easily block all incoming communications except from those you specifically indicate.

Enterprise calendar call routing

Use your Exchange calendar business hours to enable or disable call forwarding and simultaneous ringing in Skype for Business.

Integrated dial-pad

Make outbound calls quickly with Skype for Business. Dial by name or by number anywhere in the search bar and in the dial-pad.
Skype across Devices
Connect with your team anywhere using our mobile apps across Windows, iOS and Android, or bring remote participants into meeting spaces of all sizes with Skype for Business Room Systems and Surface Hub.
Complete Meeting Solution
Work like you all in one room, even when you are not. From collaborative team sessions to large broadcasts or dialing into a conference using your phone, Skype for Business is designed for all your meeting needs.
Modern Voice with Cloud PBX
Make, receive, and transfer business calls in the office, at home, or on the road, using phone, PC, and mobile. Increase agility and consolidate management with voice services in Office 365.
Security, Control and Compliance
Get end-to-end security, control and compliance that span from the user to the enterprise. All powered by the on-demand scale and manageability of Office 365.
Professional collaboration and meetings—all integrated with Office
You get everything you need for conversations in one app—IM, audio and video calls, online meetings and sharing. And because Skype for Business and Office work together, it's simple to collaborate right from your Office apps. You'll see the contact card of everyone working in the same app as you so you can quickly send them an IM or email, or start a call. You can also schedule meetings and see IM history in Outlook, and start meetings from apps like Word and PowerPoint to present whatever you're working on.
Connect with anyone, anywhere, on your favorite device
Reach out to anyone in your company, or to the hundreds of millions of people on Skype, on your favorite device or web browser. Even if they're not on Skype for Business, up to 250 people can join meetings—all they need is a landline phone or Internet connection.
Help keep info safe and manage accounts easily
All communications are protected by strong authentication and encryption. You control employee accounts, so you can add or remove subscriptions and assign features based on people's collaboration needs. If you're already on the Microsoft platform, the account info stored for each person in your organization will be immediately recognized across Skype for Business.
Reduce cost and complexity with one solution
Skype for Business will work with most communications technology, so you can still make and receive calls on PBX phones and join meetings with video teleconferencing systems. You'll also reduce the cost of supporting multiple services by upgrading to one solution that includes everything—voice, video, and online meetings. And you can continue using the on-premises equipment you already have as you gradually move to the cloud.