Scopia® XT4200 Room System
Cost-Effective HD Video Collaboration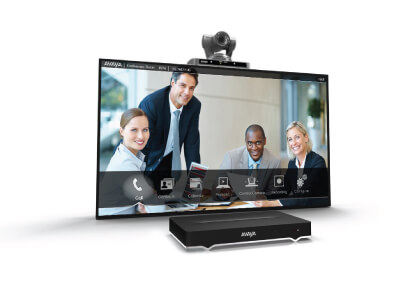 The Avaya Scopia XT4200 offers outstanding value and cost-effective HD video collaboration specifically designed for the needs of smaller and mid-sized conference rooms as well as customers who don't require all the high-end features offered in the Scopia XT5000. The system is nonetheless incredibly powerful with many features often found with costly upgrades in other vendor offerings.
The Scopia XT4200 is well equipped and includes dual 720p/60fps live video and content, HD audio, H.264 High Profile and Scalable Video Coding (SVC), dual display support and a wide-angle PTZ camera. The user interface is designed for simplicity along with optional Multi-Touch control via the Apple iPad device for enhanced capabilities.
Efficient HD Performance
The Scopia XT4200 delivers efficient HD performance featuring H.264 High Profile for bandwidth efficiency and H.264 SVC for high quality images, even in unpredictable network environments. The XT4200 also offers dual 720p/60fps live HD video and HD content, HD audio and optional Apple iPad Multi-Touch control.
Outstanding Value
The Scopia XT4200 is well-equipped and offers outstanding value including many features that can be costly upgrades in other vendor offerings. Dual 720p 60fps HD video, H.264 High Profile, H.264 SVC, dual display support, and a wide angle PTZ camera are all included for cost-effective video communications deployment.
Intuitive and Easy-to-Use
The Scopia XT4200 has been designed with the end user in mind. It delivers instant, intuitive and effective meeting control with little or no training required. With Microsoft Exchange calendar support, users can join meetings directly from the integrated system calendar. The advanced on-screen participants list gives leaders full meeting moderation. And to further extend its user functionality, the system is available with optional control via the Apple iPad device.
Sleek and Elegant Design
The Scopia XT4200 is a natural fit for today's businesses, not only for its ease of use, but also its modern design that complements a conference room. Finally a powerful business system to put on display and not keep hidden in the closet.
Integrated Total Solution
The Scopia XT4200 room system complements the total Avaya video conferencing and collaboration solution including the Scopia XT Executive 240 premium desktop system, Scopia Desktop and Scopia Mobile applications for users on-the-go, Scopia Elite delivering multi-party communications and Scopia Management for administration of the entire deployment. Scopia solutions also offer integration with UC solutions from Avaya and others.
Communications
IP: H.323, SIP (RFC 3261)
ISDN1 Supported through Scopia Gateway
Bit rate: H.323, SIP: up to 6/121 Mbps
H.320: up to 2 Mbps
MCU compatibility: H.243, H.231
Video
2 simultaneous 720p 60fps channels: camera + content
H.263, H.263+, H.263++, H.264, H.264 High Profile, H.264 SVC
Dual video: H.239 (H.323); BFCP (SIP)
HDMI input formats: up to 1920 x 1080 @ 25, 30, 50, 60fps
Live video encoding formats: up to 1280 X 720 @ 25, 30, 50, 60fps: HD720p 25, 30, 50, 60fps
DVI input formats: up to 1920 x 1080 @ 25, 30, 50, 60fps
PC content encoding formats: same as DVI input formats @ 60fps (scaled to 720p/60fps when exceeding such resolution)
HDMI output formats: 1280 x 720 @  50, 60fps
Camera
Resolution: 720p/60fps
Presets: 122
Field of View (H): 16° – 70°
PAN / Tilt: ± 100°/± 25°
Zoom: (standard) 5x optical
Zoom (optional): 10x optical, 4x digital, 40x total
Far End Control: H.224, H.281
Recording1
Recording on USB key / disk (with dual display systems, both displays show the same images while recording), not available with encrypted call
USB disk formats: FAT32, EXT2, EXT3, EXT4
Recording formats: MP4 file
Audio
Acoustic echo cancellation
Adaptive post filtering
Audio error concealment
Automatic Gain Control (AGC)
Automatic noise suppression
Frequency response:
G.711: 300 – 3,400 Hz
G.728: 50 – 3,400 Hz1
G.729A: 50 – 3,400 Hz1
G.722, G.722.1: 50 – 7,000 Hz
G.722.1 Annex C: 50 – 14,000 Hz
AAC-LD: 50 – 14,000 Hz
AAC-LC: 50 – 14,000 Hz
G.719: 50 – 20,000 Hz
Microphone
180º range
Frequency response: 50 – 22,000 Hz
Audio/Video Interfaces
Video inputs: 1 x HDMI, 1 x DVI-I
Video outputs: 2 x HDMI for dual display
Audio inputs: 2 x HDMI, 1 x Microphone (RJ-11), 1 x 3.5 mm (1/8") analog / digital with mini-TOSLINK adapter
Audio outputs: 1 x HDMI, 1 x 3.5 mm (1/8") analog / digital with mini-TOSLINK adapter
USB Ports2
Network Features
IPv4 and IPv6 simultaneous support
Auto Gatekeeper discovery
QoS support: IP Precedence, IP Type of Service (ToS), Differentiated Services (diffserv)
Avaya NetSense bandwidth adaptation for high quality over unmanaged networks
DTMF tones: H.245, RFC2833
SNTP date and time synchronization
IP adaptive packet management: Flow control, Packet Loss based down-speeding, Packet Loss recovery policies
Network Protocols
DHCP, DNS, HTTP, HTTPS, RTP/RTCP, SNTP, STUN, TCP/IP, TELNET, TFTP, 802.1Q, 802.1X
Network Interfaces
2 x 10/100/1000 Base-T full-duplex (RJ-45), (2nd GLAN optional)
Firewall Traversal
Auto NAT discovery HTTP and STUN
H.460.18, H.460.19
"Keep Alive" packet time configurable
Camera Interface
VISCA RS232 for PTZ control (Mini-DIN 8-pin)
User Interface
24 language on-screen user interface
Infrared remote control
API for endpoint control
Scopia Control application for Apple iPad1
Microsoft Exchange calendar integration
Directory Service & Address Book 
LDAP Client (H.350)
Receive global address book from LDAP Server including Scopia Management
Security Features
Embedded encryption3
H.323 security per H.235v3/Annex D
SIP security per SRTP and TLS, enciphering up to AES-256
SIP "Digest" authentication (MD5)
RTP media enciphering with AES-128
Public-Key including Diffie-Hellman (1024 bits), RSA (up to 2048 bits)
Cryptographic hash (up to SHA-512)
Web and console access HTTPS, SSH
Selective enable / disable of IP features
Web Management  
Configuration, call, diagnostics and management functions are accessible with Internet Explorer 7.0+, Firefox 3.0+, Safari 3.0+, Chrome 16.0+
Power Supply
100 – 240 VAC, 50-60 Hz, 2.5 A Max.
Physical Characteristics
W: 29 cm (11.4'')
D: 16.5 cm (6.5'')
H: 4 cm (1.6'')
Weight: 2.4 kg (5.3 lb)
Camera
W: 25.0 cm (9.8'')
H: 15.2 cm (6.0'')
D: 13.5 cm (5.3'')
Weight: 1.6 kg (3.5 lb)
Microphone:
W: 12.0 cm (4.7")
Weight: 0.4 kg (0.9 lb)
Notes:
1. Optional
2. USB supports recording, firmware upgrade, USB to serial adapter for control, limited headsets and cameras (USB2 camera support).
3. Encryption is subject to local regulations and in some countries is restricted or limited. Please contact your Avaya representative for details.