Genesys Business Edition
All-in-one Feature-Rich Edition Available in the Cloud or in Your Datacenter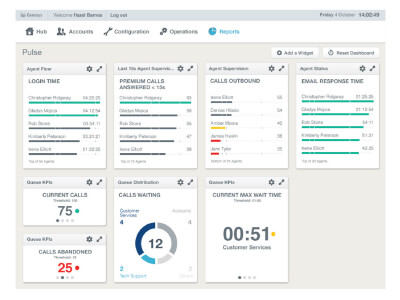 Genesys Business Edition is built on the Genesys Customer Experience Platform to address the specific needs of growth-oriented contact centers that want the ability to deliver an industry-leading customer experience (CX) without the complexity. It offers pre-packaged capabilities and pre-configured tools that simplify management, accelerate deployment—in the cloud or on-premises—and offer rapid ROI. In just a few weeks, you can be outpacing your competitors by providing personalized, contextual CX across all voice and digital channels.
Exceed your customers' expectations for a great experience however they chose to connect with your business—from voice to digital.
Market-leading, all-in-one Genesys Business Edition helps you simplify and consolidate multi-vendor contact center confusion
Pre-configured, best-in-class routing and analytics options for fast deployment and lower cost of ownership
Fast deployment in the cloud or on-premises will get you up and running quickly
Integrate and extend your legacy systems and CRM, with real-time performance and operational monitoring and analysis
Orchestrate Multi-Channel, Contextual Journeys
Business Edition makes it effortless for customers to reach you via the voice and digital channels they prefer. Your agents have full history and context for all interactions, which means your customers don't have to repeat themselves each time they contact you. This careful orchestration of customer journeys across every touchpoint and interaction boosts sales, loyalty, and your Net Promoter Score.
Accelerate Implementation and ROI
Business Edition targets the specific needs of your contact center. It's flexible, scalable, and deploys in as few as 45 days. Use the pre-configured templates and powerful tools to transform your service and earn ROI fast. Business Edition integrates with your existing systems, which eases the transition and encourages adoption by agents and supervisors alike. And as your needs fluctuate, you are able to optimize your workforce, scaling back staff or expanding to 1,000 agents.
Streamline Your Contact Center
With Business Edition you can unify disparate multi-vendor systems into a single solution infrastructure. This allows you to maximize efficiency, consolidate infrastructure, and simplify operations. Ready-to-use reporting and analytics tools empower management and optimization of your entire workforce—including remote and home-based workers. Robust routing capabilities direct your customers to the best available agent every time to improve first contact resolution, increase cross-selling and conversions, and exceed your SLAs.
Less Complexity, More Capability
With Business Edition Cloud, pre-packaged options eliminate guesswork, as well as the expense of bells and whistles you don't need. You can start with core capabilities now, and still have the flexibility to add new ones as your contact center grows. Choose Business Edition Cloud Inbound Voice, which has IVR, inbound routing, recording, and reporting. Or opt for Business Edition Cloud Multi-Channel Engagement, which has all the features of Inbound Voice plus digital channels such as chat and email.
Fast and Easy Deployment
Business Edition Cloud includes pre-configured templates for interaction routing, analytics, and reporting. Customize these tools to meet your specific contact center needs, or use them out of the box to minimize disruption to your operations and earn ROI quickly.
Pay-as-You-Go, Simplified Solution
A cloud subscription means there's no on-site hardware to maintain—and none of the associated capital expenses. You don't need to struggle with hardware maintenance, updates, outages, or data security. Genesys cloud services are the most reliable and secure in the industry and are backed by key compliance certifications. Even in the case of a local outage, your contact center can keep delivering an excellent customer experience without interruption.
Control and Convenience
With Business Edition Premise, you can choose a virtual image for installation on your server, or opt for pre-configured hardware that's ready to mount on your server rack. An on-site solution gives you ultimate control over your datacenter and your customers' sensitive information. Business Edition Premise is designed to integrate with your existing infrastructure and systems, which ensures a smooth transition with minimal downtime.
Flexibility and Speed
Business Edition Premise deploys quickly and shortens your time to value. Jumpstart your CX transformation with pre-configured templates that are based on best practices and powered by the Genesys Customer Experience Platform. Select the capabilities and options that meet your IT budget and business needs, and add digital channels and options as your contact center—and your customer experience—evolve.