E-Queue Ticketing System
Combination of cloud service and on premise solution for customer queueing solution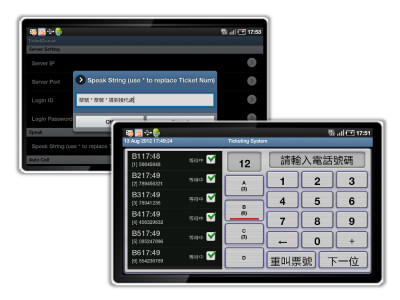 E-Queue provide cloud service and on premise solution for customer targeting for queueing solution. E-Queue Cloud is a software hosting service with a goal to deliver flexible environment while customer waiting for the service. Simply install the application in Tablet/PC. E-Queue Cloud OP is a on premise version of E-Queue Cloud which allow the enterprise user to operate its E-Queue to centralized queueing solution.
Support 1 T1 channel, capacity can be increased by hardware and software upgrade.
Customer able to get a printout ticket by input Phone Number, request number of sit on android terminal
Operator (e.g. Staff in the Restaurant) able to management the ticket (remove, call for return, call for check-in) automatically or manually
The LED display can show ticket number announced for check in
A voice announcement for speaker is able to generate automatically or manually.
System support make outbound call with specific static voice prompt, user acknowledgement with DTMF feedback is required(optional)
For Customers
Better time management. Customers no longer need to physically stand around waiting for service. Now they are free to organize their time, say, shopping in the mall, while they are on the queue and be informed the approximately ready time.
For Staff
Improve staff productivity and work more efficiency
For Corporate
Improve brand image by providing customer care service. Useful customer data enables corporate loyalty program.
eQueue Hardware
PC Server with Dual Core Xeon with 4 GB RAM, 500GB SATA HD (RAID 1)
AudioCodes Mediant 1000 MSBG (support T1 interface)
Android Tablet (Android Version 2.3.3 or above)
Thermal Printer
eQueue Software
eQueue Software
Android Tablet (Android Version 2.3.3 or above)
Thermal Printer